Caught
(1949)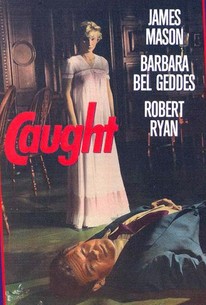 Movie Info
It doesn't take a nuclear scientist to figure out that Smith Ohrig, the character played by Robert Ryan in Caught, is a thinly disguised takeoff of Howard Hughes. But whereas Howard Hughes was merely paranoid and eccentric, Smith Ohrig is an all-out psycho. Impulsively marrying ambitious model Leonora Eames (Barbara Bel Geddes), Ohrig keeps the poor girl a virtual prisoner in his palatial mansion, tormenting her with twisted mind games while he continues his premarital playboy activities. Coming to the realization that wealth and creature comforts are no substitute for stability, Leonora takes a "normal" job in the offices of society doctor Larry Quinada (James Mason). Falling in love with her boss, Leonora nonetheless returns to Ohrig when he turns on his patented charm. Only an act of God (accelerated by Ohrig's hedonistic lifestyle) rescues Leonora from a life of lavish bondage. Billed as Max Opuls on the credits of Caught, director Max Ophuls manages to implant his own distinctive style upon what is essentially a slick Hollywood studio product. ~ Hal Erickson, Rovi
Critic Reviews for Caught
Audience Reviews for Caught
Robert Ryan plays Smith Ohlreg (or Oil-rig Smith, get it?), uber-rich playboy who is little more than a cardboard cutout of a character in this super heavy morality tale about the evils of desiring wealth, but he's still the most interesting thing in this film. James Mason seems as surprised as we that he gets to play a good guy, and maybe even a little nervous that we'll probably find out that he's always had a darker purpose in the last reel. And Barbara Bel Geddes is our innocent victim, at least given a chance to run around braless for oomph appeal.
Kevin M. Williams
Super Reviewer
A really smart, melodramatic, intense and interesting movie. The cast is good, everyone plays their part right. I really enjoyed it.
½
a fun film, mostly for robert ryan's terrific portrayal of a neurotic howard hughes like character. this is more soap opera than film noir but everything ophuls did is interesting. mason's doctor character is a little too noble maybe. at least he gets to play the good guy for once. this isn't on dvd but is streaming on netflix instant
Stella Dallas
Super Reviewer
Caught Quotes
There are no approved quotes yet for this movie.