Dune
(1984)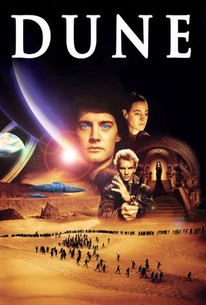 Movie Info
David Lynch wades through dark waters in his adaptation of Frank Herbert's cult science fiction novel. In condensing Herbert's rambling and complex book by eliminating characters and compacting events, Lynch succeeds in rendering the story incomprehensible to those unfamiliar with the novel and making the film look like a sketchy greatest hits collection of the book for Herbert fans. The story takes place in the year 10,191. The universe is governed through a system of feudal rule, presided over by Padishah Emperor Shaddam IV (José Ferrer), who appears to take his marching orders from something that resembles a talking vagina. In the kingdom are two rival houses -- the House of Atreides and the House of Harkonnen. Each house is trying to gain dominion over the universe, but that dominion can only be gained by the house that controls the Spice, a special substance that permits the folding of time. The Spice is only available on the desert world of Arrakis, or Dune. Shaddam, tired of the feuding between the two houses, permits the Atreides to take over the Spice production on Dune, while secretly working with the Harkonnens to launch a sneak attack on the Atreides and destroy them. The leader of the Atreides is Duke Leto (Jürgen Prochnow), who rules with the help of his concubine Jessica (Francesca Annis) and son Paul (Kyle MacLachlan). The rival Harkonnens are headed by the pus-oozing degenerate Baron Vladimir Harkonnen (Kenneth McMillan, in a thoroughly through-the-roof performance) and his two unsavory nephews, Rabban (Paul L. Smith) and Feyd (Sting). When his father is murdered by the Harkonnens, Paul escapes to Dune, where he is greeted by the Fremen (the desert dwellers on Dune who prepare the Spice) as the messiah foretold in Fremen legend. Paul assumes the mantle of messiah and leads the Fremen in a revolt that topples the balance of power in the universe. ~ Paul Brenner, Rovi
People Who Like this movie also like
News & Interviews for Dune
Audience Reviews for Dune
½
The desert roaming tribe of mystics/warriors called the Fremen (free men?) longingly await the heavenly arrival of their messiah. In the meantime powerful and arrogant otherworldly forces battle for control of a drug that bestows second sight, singularly produced on the same desert planet by a rather huge indigenous life form. The Jesus story then, made into sci-fi, Herbert's novels an veritable earthquake in that community, and wrestled with by David Lynch to bring to the screen. While stylistically vibrant, Lynch is brought low by the inability to transmit the unfolding wonder Herbert delivered: " ... a god walking amongst us!" that is the essence of the story, given by a multitude of intricacies. Lynch tries to follow the story, but only trips in those same intricacies, giving instead plodding pace and mysticism lost.
Kevin M. Williams
Super Reviewer
½
[img]http://images.rottentomatoes.com/images/user/icons/icon13.gif[/img]
Directors Cat
Super Reviewer
Ehhhhhh, its a decent sci-fi story. Its no eraserhead though and docent have the grittiness of blue velvet.
Dune Quotes
| | |
| --- | --- |
| Baron Vladimir Harkonnen: | I want to spit, once, on your head. |
| | |
| --- | --- |
| Duke Leto Atreides: | The sleeper must awaken |
| Duke Leto Atreides: | The sleeper must awaken. |
| | |
| --- | --- |
| Lady Jessica: | A million deaths is not enough for Yueh. |
| | |
| --- | --- |
| Stilgar: | Usul, we have wormsigns the likes of which even God have never seen |
| Stilgar: | Usually, we have wormsigns the likes of which even God have never seen. |
| Stilgar: | Usul, we have wormsigns the likes of which even God has never seen. |