Edipo re (Oedipus Rex)
(1967)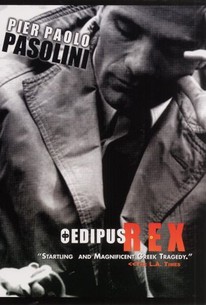 Edipo re (Oedipus Rex) Photos
Movie Info
This updated version of the Greek tragedy from Sophocles bears some slight resemblance to the original mythology. Edipo (Franco Citti) is abandoned by his father after the father receives an oracle telling him he will die at the hands of his own son. Raised by a childless couple, Edipo goes through a series of adventures before he marries his own mother. When they discover they are mother and son, Edipo blinds himself and his mother commits suicide. It's enough to give the audience a complex.
Critic Reviews for Edipo re (Oedipus Rex)
Audience Reviews for Edipo re (Oedipus Rex)
Pasolini's Oedipus Rex works great for me. Loved the desert setting, tribal elements, and dramatic intensity. The film feels grounded in an earthy seriousness, which allows for an Oedipus that is supremely prideful without being ridiculous.
Robert Brogan
Super Reviewer
Pasolini is an interesting director, it's really worth it for movie fans to at least see one of his movies. This one is his interpretation of the old Oedipus Rex story. It actually takes place where the old story says it takes place, which is awesome. The actors are really good too. The movie is very realistic and intense. I really liked it.
½
Removing sentiments,matrimonial confusions,it's no less than a naked intellect.Pasolini is the withering god of punctuality and the desolate face of Citti is fully eloquent in the antique manner of its topic.The kings are not dead yet..
Dimitris Springer
Super Reviewer
Edipo re (Oedipus Rex) Quotes
There are no approved quotes yet for this movie.