The Front Page
(1931)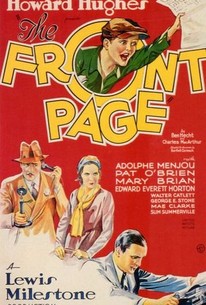 Movie Info
This film stars Adolphe Menjou as Chicago newspaper editor Walter Burns and Pat O'Brien as his star reporter Hildy Johnson. Hildy is on the verge of getting married and retiring from Burns' dirty tabloid, but he agrees to cover one last story: the politically-motivated execution of convicted cop killer Earl Williams.
Critic Reviews for The Front Page
Audience Reviews for The Front Page
½
Lewis Milestone straight off his success with All Quiet on the Western Front turned his attention to this comic gem of the stage. Milestone and his crew have pretty much figured out the use of microphones for talking pictures and have again freed up the camera to move like in the silent days. This National Film Registry film has been restored by the Library of Congress. There are still a couple rough patches in the audio when characters weren't being picked up by the microphones very well or suddenly project to close to a mic and are too hot. In these early days of the talkies as well as popular music before Bing Crosby became a big deal, men like Pat O'Brien could be leading men material with higher pitched voices. To repeat what I said in my review of the 70s version of this play directed by Billy Wilder, the three movie versions of the play differ the most in the exposition. We meet Hildy's fiancé Peggy much earlier and Burns tricks Hildy into drinks and reverse psychology before we enter the play proper in the newsroom. The camera work is creative, the dialogue is rattled off fast, and the characters are all types that the actors could clearly reference from within their own lifetimes (I mean that the story and characters are current). This movie may have cut some explicit language that shocked audiences on Broadway, but not all the strong language and innuendo (including one devil-may-care reporter flipping the bird to the corrupt mayor and sheriff). I've read analysis elsewhere about how the politicians and reporters are all corrupt and morally ambiguous, whereas the only two characters trying to do the right thing are the street walker Molly and the escaped cop killer wrongly accused of being a communist Earl. This version makes those societal issues clear and still provides a rollicking laugh filled ride.
Byron Brubaker
Super Reviewer
½
Likely the worst of the adaptations of the Front Page. I happened to catch the 70s one and found it much more enjoyable.
John Ballantine
Super Reviewer
The Front Page Quotes
There are no approved quotes yet for this movie.
Discussion Forum
Discuss The Front Page on our Movie forum!