The Haunting
(1963)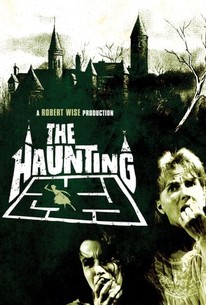 Movie Info
Anthropology professor Richard Johnson investigates reports of psychic phenomena at a "troubled" New England mansion known as Hill House. He is joined by Julie Harris and Claire Bloom, women of radically different temperaments who share a common gift for ESP. Cynical Russ Tamblyn, who stands to inherit Hill House, goes along with the paranormal investigators, hoping to get a few laughs. He doesn't -- nor does Harris, the person most adversely affected by the various ghoulies, ghosties and things that go bump in the night which reside throughout Hill House. Both Julie Harris and Claire Bloom insist to this day that they experienced genuine ghostly disturbances during the filming of The Haunting. Conversely, director Robert Wise noted that he wanted to undergo a paranormal experience, but never did.
News & Interviews for The Haunting
Critic Reviews for The Haunting
Audience Reviews for The Haunting
½
Julie Harris' narration gets a little excessive at times but otherwise, great classic horror film that sports a great brooding atmosphere, mesmerizing cinematography, and a great ensemble cast.
Christopher Heim
Super Reviewer
A sophisticated Gothic tale that doesn't show us anything that would actually frighten us to death but still manages to create an eerie sense of dread as it probes into the psychological and emotional unbalance faced by its protagonist and blurs the line between reality and illusion.
Carlos Magalhães
Super Reviewer
The Haunting is a stellar haunted house flick with a great cast. Director Robert Wise crafts a memorable film that has some genuine scares, something that is missing from many horror films of today. The Haunting is a brilliantly acted film with a great cast and it has such atmosphere to create memorable terror. The Haunting is one of the greatest haunted house films ever filmed. Director Robert Wise creates a terrific film, and The Haunting is one of the most memorable, most efficient haunted house films in the horror genre. This film relies on atmosphere to create the horror and Robert Wise has a terrific eye of what makes a memorable and effective horror flick. The cast deliver great performances and The Haunting is a perfect ghost story. Director Robert Wise genius direction keeps you imagination guessing and what the horrors are that lurk in the dark. This is superb filmmaking at its terrifying best, and remains the quintessential haunted house film to watch. This is a masterful horror classic that is still scary after all these years. The film relies heavily on the unseen to create the terror, and it proves that at times you don't need blood or gore to create the terror on-screen. Sometimes all you need is the fear of the unknown, what you can't see brings even more genuine terror than most psychotic mad men. The Haunting set the standard for all haunted house films that would follow. Robert Wise has crafted a must see horror flick, a definite classic of the genre. This film will definitely give you a few good scares. If you want a great atmospheric horror film, then The Haunting is a definite must see. Robert Wise definitely knows how to create effective horror with a dark atmosphere that keeps you on the edge of your seat from start to finish. A flawless classic.
The Haunting Quotes
| | |
| --- | --- |
| Dr. John Markway: | That proves it: one of you is a witch! |
| | |
| --- | --- |
| Eleanor Vance: | Hill House has stood for ninety years and will probably stand for ninety more. And we who walk at Hill House, walk alone. |
| | |
| --- | --- |
| Dr. John Markway: | You're liable to have that shut door ripped right off it's hinges |
| Dr. John Markway: | You're liable to have that shut door ripped right off it's hinges. |
| | |
| --- | --- |
| Eleanor Vance: | And whatever walks there walks alone |
| Eleanor Vance: | And whatever walks there walks alone. |
Discussion Forum
Discuss The Haunting on our Movie forum!