The Incredible Hulk
(1977)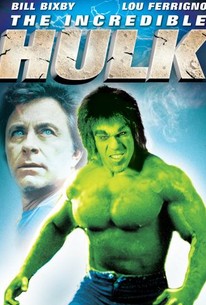 The Incredible Hulk Photos
Movie Info
The Incredible Hulk, the live-action TV series based on the popular Marvel Comics character, was preceded by a 2-hour TV-movie pilot. Bill Bixby stars as Dr. David Banner (Bruce Banner in the original comic books), a scientist whose experimentation with gamma rays has a most dramatic effect. Whenever his anger is aroused, Dr. Banner turns into a huge, green, rampaging monstrosity called the Hulk (played by bodybuilder Lou Ferrigno). Unjustly accused of being a criminal in his "Hulk" guise, Dr. Banner is forced to take it on the lam. In Fugitive fashion, the subsequent series found Dr. Banner and his alter-ego Hulk helping people in distress. Written, produced and directed by Kenneth Johnson, the Incredible Hulk pilot was first broadcast November 4, 1977.
Critic Reviews for The Incredible Hulk
All Critics (7) | Fresh (4) | Rotten (3) | DVD (2)
It's a great bit of 70s entertainment and a nice little monster movie with heart.
It's so hard bein' green...and entertaining to boot.
May 28, 2005 | Rating: 1/5
Tacky but fun.
February 10, 2003 | Rating: 3/5
Audience Reviews for The Incredible Hulk
This is the TV movie which is a sort of prequel or back story for the TV series of the same name. If you love the show, you wont want to miss this movie, I know I enjoyed it.
Some Minor Spoilers Here**************************** In my opinion, The Incredible Hulk pilot is one the best ever to hit the small screen. To start, this movie changed everything including the Hulk's origin. In the original comic book Dr. Bruce Banner had built a gamma bomb and was about to test it out in the desert. Minutes before it was set to go off Banner noticed a young teenager called Rick Jones driving on the test area. He rushed out to save the lad and managed to get the lad to safety-but it was too late for him. He was caught in the midst of the gamma explosion and the Hulk was born! The story in this movie was quite different. Dr. David Banner (not Bruce) had lost his wife in a tragic car accident. He was doing some research into feats of strength exhibited by normal people during times of great stress. He came to the conclusion that gamma rays had something to do with it so he gave himself what he thought was a small dose of the gamma radiation. Unfortunately, he took an accidental overdose and his life was changed forever. The late Bill Bixby did a great job as Dr. Banner. He really made you feel for the character; whatever emotions Banner was feeling was felt by the audience too. Here was a man who would transform into a primitive and uncontrollable creature during times of stress-and there was nothing he could do about it. Lou Ferrigno did a great job as the Hulk. The Hulk was a good guy and he would not cause damage unless provoked but of course he was judged on appearance alone. In an early scene the Hulk comes across a little girl in the woods who is fishing. He means her no harm but when the little girl's father spots him he assumes the Hulk is here to harm the girl. So a shot is fired and the Hulk goes on a rampage! The end of the film has Banner teaming up with fellow scientist Elaina Marks to find a cure for himself. Unfortunately, thanks to meddling by a nosey reporter called Jack McGee there is an explosion at a lab. Banner becomes angry and changes into the Hulk. He braves the fire and rescues Elaina but it is too late-she dies. And the Hulk is heart broken. This was a great scene. The Hulk-with all his strength-could not save the life of a young lady. It shows us that brute strength will only take us so far. Another issue in the film is the emotion of anger. Anger is an emotion that effects us all and I think the film is in a way telling us that anger and violence solves nothing but at the same time it is part of human nature and can not be changed. That's enough analyzing anyway. One final point I would like to make is about Jack McGee played by Jack Colvin. McGee is a reporter for a rag called The National Register. McGee was a great character who would plague Banner and the Hulk for the next five years. All in all, a brilliant film-and who can forget the truly sad music as Banner leaves Elaina Mark's grave at the end. Truly a great film
David Ladd
Super Reviewer
½
T.V. movies are not supposed to be this good. Usually, a movie made for television is shallow and forced, with shoddy acting, poor production values and no style. The Incredible Hulk telefilm, on the other hand- aired in 1977, just a year before Superman: the Movie- is so well crafted and marvelously executed that, were it not for a few budget tells, stylistic choices, and its full-frame presentation, I would fully believe it to be a motion picture (and, on many levels, it even out-does the later film adaptation of the character- though not with its effects, of course). The story concerns David Banner, a research scientist who is searching for the key to superhuman strength after a car accident takes the life of his wife, whom he wasn't strong enough to rescue from the wreckage. Discovering a potential link between a DNA irregularity and gamma radiation, Banner tests his theory on himself, bombarding himself with gamma rays and mutating his genetic structure. Now, when he is overcome by anger, he transforms into a large, green monstrosity with incredible strength, a creature that may be the key to everything he's been searching for... or it may be a curse that will tear his life to pieces. Bill Bixby plays Dr. David Banner as a good, likable man who is followed by his own dark cloud of anger and grief, a fog that keeps him from seeing all the good things he still has in life. He also has something of a temper, which we can see simmering in a number of scenes before his experiment- Banner is angry at the world for taking away his wife, and the gamma radiation merely gives his rage form. Working with Banner on the project is Susan Sullivan as Dr. Elaina Marks, a smart, warm woman who clearly has feelings for David, but can't seem to get through the veil of his grief,, instead settling for being his close friend. Sullivan and Bixby have great chemistry together, and the scenes between them are playful and light, evoking a long, comfortable working relationship that may have blossomed into something more under different circumstances. The primary obstacle between them, namely David's grief and rage, is personified in the creature played by Lou Ferrigno (who is never formally referred to as "the Hulk" in the film). Ferrigno cuts quite an intimidating figure as the Hulk, even with the fright wig and huge forehead/nose appliances. He manages to come off as just less than human, and when he needs to be scary, he does the job ably. Finally, there's Jack Colvin as investigative reporter Jack McGee, the pain in the ass who snoops around to find out just what's going on with the giant creature for his news rag. Colvin is bizarrely dated with his brown suits and Elton John sunglasses, and for some reason he's dubbed half the time, but as a persistent, somewhat annoying foil for Banner, he does a great job. What works best about the film is its ability to establish mood and suspense. The subdued opening credits sequence, topped off by that wonderful quote ("Within each of us, ofttimes, there dwells a mighty and raging fury"), creates an ominous tone from the get-go which filters through the movie brilliantly. It culminates in the first transformation scene, set at night in a rain storm, which feels almost like a sequence from a horror movie. Alternately, the movie also builds up suspense masterfully, particularly starting with the gamma injection scene and building all the way up until that first transformation; the director uses audio montage to pile the stresses in Banner's thoughts on top of one another, while each instance of flaring temper makes the viewer try to guess when he's finally going to snap. The shot compositions are really clever (especially with the camera viewfinders during the interviews), the editing is superb (I love the little muted flashes of David's rage that pop up from time to time). Sure, the director has a nasty, television-bred habit of zooming excessively, but it's not as bad as some other shows to come out of that era. The music can also be pretty corny, especially when the Hulk shows up (cue the bongos!), but for T.V. in the seventies, it's not half bad- at least it's not all synthesized. And okay, the effects are sometimes pretty hokey, too (like when the Hulk changes back to Banner in front of Elaina), but they aren't driving the story anyway, so it doesn't matter. What drives this film is good, well done suspense, wonderful character development, and the occasional burst of bodybuilder fury. It doesn't rely on the superficial aspects of its story, instead focusing on the heart of the tale; because things like good storytelling, sharp characterization, and human drama don't cost all that much, the film succeeds with only a fraction of the budget of some major motion pictures. The truth is, the Incredible Hulk is one of my favorite movies because it has everything that most cookie-cutter blockbusters don't, and while it's not technically a film, it's still far better than many of its cinematic counterparts.
Darik Houseknecht
Super Reviewer
The Incredible Hulk Quotes
| | |
| --- | --- |
| Dr. David Bruce Banner: | Mr. McGee, don't make me angry. You wouldn't like me when I'm angry. |