Julius Caesar
(1953)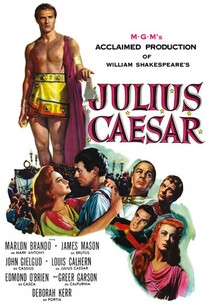 Movie Info
Joseph L. Mankiewicz directed this exquisite version of William Shakespeare's play. Louis Calhern is Julius Caesar, whose conquests have enabled him to rise to the status of Roman dictator. But his ascent to almost God-like status has given pause to influential members of the Roman Senate. Chief among them is Cassius (John Gielgud), who is troubled by Caesar's popularity and dictatorial status. Convinced that Caesar's assassination would be the best thing for Rome, he conspires with Casca (Edmond O'Brien) and the influential Brutus (James Mason) to plot Caesar's murder. Despite dark omens, Caesar walks confidently into the Roman Senate, where he is stabbed to death by the conspirators. His companion Marc Antony (Marlon Brando) is shocked and runs to the corpse of his beloved friend. He agrees to support Brutus while an unruly mob gathers in front of the Senate doors, having heard rumors of Caesar's assassination. Brutus convinces the mob that Caesar's death was for the good of Rome, preventing him from forming a monarchy. Then Antony appears, determined to destroy the conspirators; he delivers a speech that subtly damns the assassins. With the mob against them, the conspirators are forced to flee Rome and Antony organizes an army against them. ~ Paul Brenner, Rovi
Critic Reviews for Julius Caesar
Audience Reviews for Julius Caesar
This adaptation of Shakespeare is, like the play, more interested in the post Caesar world than the title character. Brando gives us the most realistic Antony speech that I have ever seen. Mason and Gielgud are tremendous as the villains.
John Ballantine
Super Reviewer
½
The best treatment of Shakespeare's Julius Caesar, by far. Hats off to Ms. Kerr for her riveting portrayal. John's Gielgud's "Et Tu Brute?!" was the finest of the many versions out there.
Christian C
Super Reviewer
A good production of Caesar, the cast does a good job. It could have been more exciting or interesting, but for a presentation of a classic like this it's good.
Julius Caesar Quotes
There are no approved quotes yet for this movie.