The Last Command
(1928)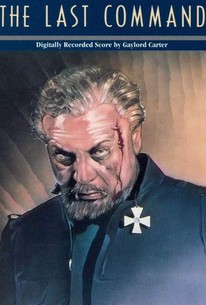 The Last Command Photos
Movie Info
Josef vonSternberg's The Last Command was inspired by the true story of General Lodijenski, a Russian aristocrat who arrived penniless in the US after the 1917 Revolution and who supported himself by playing movie bit parts and managing a Russian restaurant. Emil Jannings stars as the Grand Duke Sergius Alexander, who in the last days of the Romanoff regime must decide the fate of two revolutionist actors, Leo Andreyev (William Powell) and the gorgeous Natacha (Evelyn Brent). Andreyev is carted off to prison, while Natacha becomes the Duke's mistress. She fully intends to kill him, but when the chance arises, she hesitates, having come to realize that the Duke is an essentially decent man who loves Russia as much as she does. Comes the revolution, and Natacha helps the Grand Duke escape the Bolsheviks, losing her own life in the process. The death of Natacha sends Sergius Alexander into a nervous shock, from which he never fully recovers. Years later, a shabby Sergius is eking out an existence as a Hollywood extra. Hired to play a Russian general in a crowd scene, Sergius discovers that his director is none other than former Russian revolutionary Leo Andreyev. The meaning of the title is clarified in the film's emotional climax. Plot inconsistencies aside, The Last Command is a stunning cinematic achievement, combining the harsh realities of Russia and Hollywood with vonSternberg's unerring sense of visual beauty.
Rating:
NR
Genre:
,
Directed By:
Written By:
In Theaters:
On DVD:
Runtime:
Cast
News & Interviews for The Last Command
Critic Reviews for The Last Command
Audience Reviews for The Last Command
Great classic film. Emil Jannings is perfectly cast to play Grand Duke Sergius Alexander, the fallen general in command of the Russian army during the communist revolution. His portrayal as both a fierce and confident military leader at the height of his command and then as a damaged and struggling old man just trying to get by as a Hollywood movie extra is superbly done and definitely deserved of his Best Actor award in the first Academy Awards. Favorite quotes of the movie: "You are now my prisoner of war....and my prisoner of love!" followed closely by "That woman belongs with me. She goes with the coat!". The only downside is that I nearly got lung cancer watching this movie; they sure did like their cigarettes.
Ethan Wesley
In "The Last Command," Andreyev(William Powell), a movie director, is preparing to film his magnum opus about the Russian Revolution. In casting the role of a Russian general, he finds the real deal in Sergius Alexander(Emil Jannings), the late Tsar's cousin and former commander-in-chief, now forced to work as a film extra for $7.50 a day. While trying on his costume, Sergius remembers happier days back in his native Russia, commanding troops while having to deal with an insurrection. In the process, he arrests two revolutionists, Andreyev and Natalie(Evelyn Brent). Towards the beginning, "The Last Command" might seem like just a predictably poignant story of the plight of a fallen man.(Emil Jannings had played a character with a similar arc previously in "The Last Laugh.") Rather, the movie excels in using its enthralling story to provide an expert deconstruction that is far ahead of its time. The shift between Sergius in 1928 and 1917 is so abrupt that I assumed at first that it was the fiction of Andreyev's movie instead of the facts of Sergius' life. Thus "The Last Command" takes full aim at not only Hollywood's problems with the truth but also quite possibly Soviet propaganda like "Potemkin" that this movie shares a similar style with in certain scenes. The point is that the world is much more complex than just black and white with Sergius being a good man on the wrong side of history.
½
One of the best lead performances in a silent drama I've seen, plus an undeniably powerful ending. But I prefer my silents a bit more stylized -- Von Sternberg's direction basically just gets the job done, minus a few tracking shots of note (particularly when scanning behind a row of windows that's issuing costumes to film extras). I also grew impatient with a long stretch that did little beyond flatly establishing the main character's past stature as a revered Russian general. I would have enjoyed more material set in the Hollywood present. Emil Jannings' frozen expressions of suffering will stick with me, however.
Eric Broome
Super Reviewer
Discussion Forum
Discuss The Last Command on our Movie forum!
News & Features