Master of the World
(1961)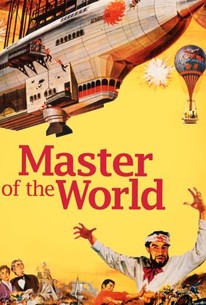 AUDIENCE SCORE
Critic Consensus: No consensus yet.
Movie Info
Master of the World was adapted by Richard Matheson from two Jules Verne novels, Robur le Conquerant (1896) and its sequel, Maitre du Monde (1904)--with more than a little of 20,000 Leagues Under the Sea thrown in. Set in 1868, the story is galvanized by an ominous warning of impending doom, delivered in a disembodied but resonent voice from a huge mountain just outside Morgantown, Pennsylvania. Hoping to find the source of the warning, the members of the Weldon Balloon Society, headed by munitions manufacturer Prudence (Henry Hull), send a motorized balloon to investigate. Also aboard Prudence's balloon is his daughter Dorothy (Mary Webster), her fiance Philip (David Frankham), and taciturn pilot Strock (Charles Bronson). Before long, the little party is captured by the brilliant but unbalanced Robur (Vincent Price), captain of the gigantic, state-of-the-art airship "Albatross." Robur explains that he is a man of peace, and that he is using his huge airship to wipe out all warfare by obliterating every weapon of mass destruction on earth--and never mind that a few innocent bystanders may also be killed in the process. Admiring Robur's intentions if not his methods, Strock bypasses every opportunity to stop the madman in his tracks, and for this he is branded a coward by the hotheaded Philip, sparking a battle of words and fists that will persist throughout the film. Meanwhile, Robur attacks such strategic military locations as Paris, Madrid and North Africa (courtesy of stock footage from other films), and as the carnage continues, Prudence renounces his war-profiteering ways. As for Strock, his admiration for Robur does not prevent him from a desperate climactic effort to rescue Prudence, Dorothy and Philip by planting a time bomb in the "Albatross"--a bomb that very well may go off before the "good guys" get off.
Critic Reviews for Master of the World
All Critics (2) | Fresh (2) | Rotten (0)
An entertaining tale that often plays like a "B" version of Disney's Verne adaptation 20,000 Leagues Under the Sea.
Highly entertaining but ludicrous fantasy sci-fi film set in the 19th century.
Audience Reviews for Master of the World
½
Not bad version of the Verne classic. The animation is laughable to modern eyes but it's professionally done for the time period. It is also expertly cast in the three most important roles with Charles Bronson all resolute decency and two boiled hams Henry Hull and Vincent Price livening things up with over the top performances.
½
1961 is the right date for this movie, not 76, I don't know why it says that. Anyway, this is one of the worst movies Price was in, in my opinion. The story about the crazy giant zeppelin thing was taken from a Jules Verne novel, but it doesn't make a good movie, the special effects are bad and it's confusing and silly, it's just not good.
Master of the World Quotes
| | |
| --- | --- |
| Strock: | This is the world we're living in, not a drawing room, so don't speak to me about words of honor. We happen to be prisoners on the ship of a man who would willingly destroy the world in order to save it, Mr. Evans. The World! Reality! Now open your eyes and look at it hard. What should I have done? Proclaimed in ringing, gentlemanly tones that I would resist him to my last breath? |