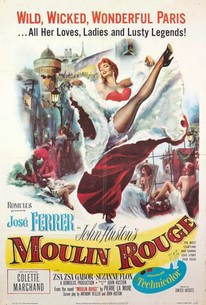 Moulin Rouge
1952, Biography, 2h 3m
11 Reviews
50,000+ Ratings
Rate And Review
Movie Info
Visually exquisite biopic of Toulouse-Lautrec, the crippled painter whose work perfectly captured the spirit of bohemian Paris in the naughty 1890s. Portrayed as an embittered loner, he is tormented by his doomed relationships with prostitute Marie Charlet and sympathetic model Myriamme.
Audience Reviews for Moulin Rouge
The sequences set in the title location are great but they occupy a tiny portion of the movie's running time. The rest is a turgid romance and dull biopic material.

Pros: - Watching the film, you get an appreciation for Henri Toulouse-Latrec, the man behind the art. He was of noble birth, but only grew to 4'8", with an adult-sized torso but child-sized legs, because of a childhood accident in combination with a genetic disorder (which was in turn due to his parents being first cousins). In a decision which estranged him from his father, he went to Paris to become a painter, and while he had a circle of acquaintances from frequenting the Moulin Rouge, was desperately lonely, and an alcoholic. Director John Huston does a great job in flashing back to tell the back story. - The film is a nice homage to his art as well. We see him creating sketches, paintings, and prints in various settings which give quite a taste of his style, and along the way Huston flashes through two sets of images of Toulouse-Latrec's actual artwork, sequences I enjoyed. - José Ferrer turns in a fine performance as Toulouse-Latrec, impressive both physically (since he was 5'10") and also in his artistic intensity, which spilled over into the inevitable emotions coming from being ridiculed, mocked, or pitied as a 'freak'. - While a wee bit cloying, I thought the ending was a very nice touch, with the dying Toulouse-Latrec visited by ghostly versions of his bohemian friends from the Moulin Rouge, who say good-bye to him. It seems to fit with the 'world gone by' reminiscence of the Montmartre circa 1890, and offsets the artist's sad death. Cons: - Historical accuracy. The artist's life is sanitized and watered down here. In the film, Toulouse-Latrec takes up with a prostitute and has a stormy relationship with her, but always maintains noble feelings and a sense of class. The real Toulouse-Latrec led a much more dissolute lifestyle, spending days at a time in expensive brothels. He had a protracted case of syphilis, which, along with complications from alcoholism, killed him at 37, and the STD is not even alluded to here. Have a look at the used-up, wasted, and dejected look of the women in his work "The Sofa" (1894-96); there is real pathos and a sense of squalor in art such as that, but we don't see that sort of thing in the film. - Similarly, the environment of the Moulin Rouge dance hall, as well as the musical numbers performed there, feel 'rated PG', and a far cry from the outrageous, wild, and dangerous place we not only read about, but see in Toulouse-Latrec's work. Huston spent a lot of time on colors and filters and the like, but seems to have missed (or not been able to show because of the production code) the real nature of the place. - Zsa Zsa Gabor is awful as a showgirl. She lip synchs a couple of songs and is obviously off more than once. In fact, with the exception of Colette Marchand, none of the other actors comes close to matching Ferrer's performance, and oddly, few attempt a French accent as he does. Bottom line: Many Hollywood depictions (and other historical accounts) are romanticized, so it's not shocking to see that here, especially as the movie is from 1952. I like the attempt to honor the man and his art, but it's particularly unfortunate to romanticize someone like him, and the Moulin Rouge. Worth seeing, but with a grain of salt.

Ferrer has irritated me in other roles but he does well here in the original version of Moulin Rouge. It wasn't a Luhrmann triumphant production with visuals and music coming at you from ever which way but it is entertaining to whatch Toulouse Lautrec being seduced by Montmarte.

I'll admit I like the new Moulin Rouge movie better than this one. This movie is sort of a historical drama, but I'm not sure how true it is to history, it's a strange movie with strange characters. I didn't really care for it, but it's not that bad either.
See Details