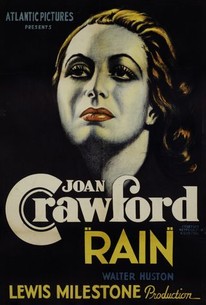 Rain
1932, Drama, 1h 33m
10 Reviews
500+ Ratings
Rate And Review
Movie Info
In the South Pacific, the passengers of a boat must disembark prematurely at the island of Pago Pago due to a cholera scare. Among them are missionaries Alfred Davidson (Walter Huston) and his wife (Beulah Bondi), and a spirited prostitute, Sadie Thompson (Joan Crawford). On the island, Thompson lives it up with the American soldiers stationed in the village, and captures the heart of Sgt. Tim O'Hara (William Gargan). But Thompson's wild ways are too much for Davidson, who tries to convert her.
Genre: Drama

Original Language: English

Director: Lewis Milestone

Producer: Joseph M. Schenck

Release Date (Theaters): wide

Release Date (Streaming):

Runtime:

Distributor: United Artists, Reel Media International [us], The Roan Group
Audience Reviews for Rain
The rain falls incessantly in this movie, bringing to mind Matthew 5:45, "he sendeth rain on the just and the unjust alike". In this case, it seems clear that the 'unjust' are actually the devout Christians (Walter Huston and Beulah Bondi), as they sanctimoniously judge Joan Crawford's character and cruelly use their influence to get orders for her immediate deportation from Pago Pago, where this film is set. She is likely a prostitute, but the reason for his action stems from her (gasp) moral crime of listening to music and dancing with some soldiers on the Sabbath. As a more tolerant man observes, "we've all crossed thresholds we don't brag about", but Huston is relentless in cross-examining her about her past, and demanding that she get on the right side of the Lord, even though they've just met. It's interesting to see Crawford stand up to him in what are the best scenes of the film. "You keep yellin' at me to go back and be punished, to suffer - how do you know what I've suffered? You don't know, you don't care, and you don't even ask - and you call yourself a Christian!", she yells, and "Your God and me will never be shipmates, and the next time you talk to him you can tell him this for me - that Sadie Thompson is on her way to hell!" However, she is eventually cowed and resigned to be repentant, which is the first unbelievable part of an unbelievable ending, which I won't spoil. The movie is a little hard to watch because the main characters are so unlikeable. Huston and Bondi are righteous prigs. Crawford is heavily made up and often over-acts her part. There are a few good scenes, however, and it may be of interest to see this adaptation of the short story by W. Somerset Maugham, which spurred several other movies and plays.

First I have to comment that I saw this on a $2 DVD, therefore, the picture and sound quality was extremely poor. I could not actually hear some of the talking which may have reduced my understanding of the movie, leading to a lower rating than deserved. I mainly enjoyed this. It must have been quite risque in its day to show Joan Crawford as a prostitute (I hasten to add nothing is actually seen!). The religious fanatic character must have also been controversial. Really quite a dark little story. Acting at time seemed a little hammy, but as stated, quality of film not so great, plus it is very old. Liked the ending a lot. I found Joan's brainwashed girl more convincing than the prostitute, which was why it worked so well.
See Details