Three Amigos!
(1986)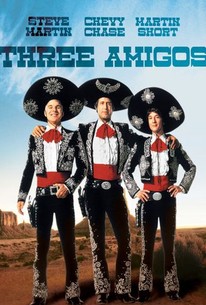 Movie Info
Three silent movie actors known as the "Three Amigos" travel to a small Mexican town for what they think is a public appearance in this mild comedy. Instead, they realize they have been mistaken for their screen characters, where the townspeople ask them to help fight an evil bandit.
News & Interviews for Three Amigos!
Critic Reviews for Three Amigos!
Audience Reviews for Three Amigos!
Funny and memorable, Three Amigos!, gonna make a lot of people laugh. Martin, Chase and Short are a amazingly ensemble.
Lucas Martins
Super Reviewer
½
John Landis has had a very spotty career. And, as much as I wanted to really like this, it is unfortunately one of his misses. The concept is a mixture of a few things, namely The Seven Samurai/The Magnificent Seven with the whole shtick about actors who get confused for the characters they play, but end up becoming like their characters. The specific plot for this high concept involves three recently fired silent era actors known for playing singing, dancing, fighting mariachis who get hired by a naive Mexican woman to save their village from a band of marauders. Due to some mixups, the trip think they're being hired for a special public appearance, not (initially) realizing that the bullets being fired at them are real this time. The director is there, the cast (Chevy Chase, Steve Martin, Martin Short) are there, and the concept is definitely there, so I have no idea what happened here. This movie is shockingly flat, dull, not really all that funny, and just a real missed opportunity. Almost all of the jokes fall flat, everything just feels really stale, contrived, and dumb, and I kept being reminded of all the better movies that this film apes off of and fails to be a successful farcical send up of. Yeah, the music (the score primarily) is good, and there's a couple of moments that did make me genuine laugh, but I really can't remember what they are sadly. Everyone seems to be on autopilot, and I just can't stress enough how dull and disappointing this is. When I saw Roger Ebert's one star review, I was surprised at how he could have disliked this movie so much. Now that I've seen it myself, it's painfully obvious. I thought that Spies Like Us was a dull effort from Landis, but this makes that one look like a damn masterpiece.
Chris Weber
Super Reviewer
Now this is a classic...nay legendary 80's comedy, I guarantee you'll laugh your ass off, if you don't then your too young to remember these SNL allstars. The plot is daft and has now been rehashed many times but the comedy is gold. There are so many funny moments, the whole film is just non stop, really...all that's missing is John Candy. I can't stress enough how good this is, its one of the all time best feel good comedies you will ever see, up there with 'Planes, Trains and Automobiles' They don't make comedies like this anymore because no one can beat a cast like this, once in a lifetime and that's it. A treasure of a film. 'oh great..you just shot the invisible swordsman'
Phil Hubbs
Super Reviewer
Three Amigos! Quotes
| | |
| --- | --- |
| Dusty Bottoms: | Looks like someone's been down here with the ugly stick. |
| | |
| --- | --- |
| Ned Nederlander: | Dusty, how do you like your bat? |
| Dusty Bottoms: | Medium rare. |
| | |
| --- | --- |
| Ned Nederlander: | Dusty, how do you like your bat? |
| Dusty Bottoms: | Medium rare. |
| | |
| --- | --- |
| El Guapo: | Jefe, you do not understand women. You cannot force open the petals of a flower. When the flower is ready, it opens itself up to you. |
| Jefe: | When do you think Carmen will 'open up her flower' to you? |
| El Guapo: | Tonight, or I will kill her. |
Discussion Forum
Discuss Three Amigos! on our Movie forum!