10:30 P.M. Summer
(1966)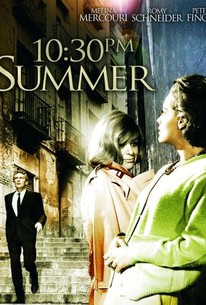 AUDIENCE SCORE
Critic Consensus: No consensus yet.
Movie Info
Passion, whether sex or violence, is the root of conflict in this film which follows as the alcoholic Mercouri and her husband Finch travel with their daughter and Schneider across Spain. Being married does not stop Finch from fooling around with other women, however, and an affair flares up between him and Schneider. But it doesn't just stop between these two--things start warming up between Mercouri and Schneider as well.
Critic Reviews for 10:30 P.M. Summer
Audience Reviews for 10:30 P.M. Summer
[font=Century Gothic]In "10:30 P.M. Summer," Paul(Peter Finch) and Maria(Melina Mercouri) are traveling in Spain with their young daughter and Claire(Romy Schneider). On a rainy night, they are hampered by the manhunt for Rodrigo Palestra(Julian Mateos) who killed his wife and her lover and then by a storm which causes a local power outage, resulting in a shortage of rooms at the local hotel. They decide to stay instead of pressing on to Madrid. Later that night, Maria goes out onto a balcony where she notices not only Paul and Claire in an embrace but also Rodrigo hiding on the rooftop.[/font] [font=Century Gothic][/font] [font=Century Gothic]"10:30 P.M. Summer" is an elusive movie that explores the notion of escape in a variety of different ways. First, there are the tourists getting away from their drab lives to go to Spain where they are interrupted by a bit of reality in the person of Rodrigo who is on the run for murder in trying to possess his wife who he could never own. And then there is Maria who is sympathetic to his plight since she thinks her husband is falling in love with a much younger woman. Her escape comes through the bottle.[/font]
10:30 P.M. Summer Quotes
There are no approved quotes yet for this movie.