The Long Goodbye
(1973)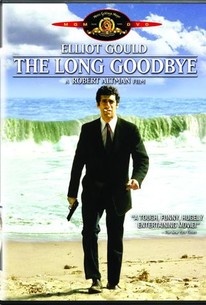 Movie Info
"It's OK with me...." Applying his deconstructive eye to the "film noir" tradition, Robert Altman updated Raymond Chandler in his 1973 version of Chandler's novel, The Long Goodbye. Smart-aleck, cat-loving private eye Philip Marlowe (Elliott Gould) is certain that his friend Terry Lennox (Jim Bouton) isn't a wife-killer, even after the cops throw Marlowe in jail for not cooperating with their investigation into Lennox's subsequent disappearance. Once he gets out of jail, Marlowe starts to conduct his own search when he discovers that mysterious blonde Eileen Wade (Nina Van Pallandt), who hired him to find her alcoholic novelist husband Roger (Sterling Hayden), lives on the same Malibu street as the absent Lennox and his deceased spouse. As numerous variations on the title song play in unexpected places, Marlowe encounters a shady doctor (Henry Gibson), a bottle-wielding gangster (director Mark Rydell), and a guard aping Barbara Stanwyck (among other stars), before heading to Mexico to stumble onto the truth once and for all. ~ Lucia Bozzola, Rovi
Critic Reviews for The Long Goodbye
Audience Reviews for The Long Goodbye
½
An intricate film noir satire that has all the elements that we expect from a Raymond Chandler story, only this time the protagonist of The Big Sleep is updated to the 1970s with a shocker in the end and a delicious melancholy song that will stay in your head for a long time.
Carlos Magalhães
Super Reviewer
Kevin Cookman
Super Reviewer
A very interesting film for film buffs. It's not fantastic, but it's a film for the sake of film. If you watch film noir, you should check it out. This movie takes the character of Phillip Marlowe, and puts him in the 70s culture. It is partly a parody, but it is also toying with what you expect for a film noir.
The Long Goodbye Quotes
There are no approved quotes yet for this movie.