True Colors
(1991)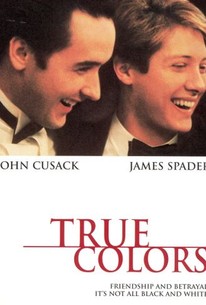 Movie Info
Two old law-school buddies find themselves on opposing sides of ethical beliefs when one is a manipulative politician and the other an attorney for the Justice Department who soon becomes aware of his friend's dealings and is motivated to take action.
Rating:
R (adult situations/language)
Genre:
Directed By:
Written By:
In Theaters:
On DVD:
Runtime:
Studio:
Paramount Home Video
Critic Reviews for True Colors
Audience Reviews for True Colors
½
This movie has three of my favourite actors: Cusack, Spader, and Widmark. But I only got to see the second half of it on TV one day. It's full of political stuff I don't understand and don't care for, but like I said, I didn't get to see the whole of it. From what I saw it's not that good, but I did like seeing three of my favourite stars in a movie together.
by Dane Youssef "VERY WELL-PLAYED, BUT ALMOST WRITTEN AT THE LEVEL OF AN AFTER-SCHOOL SPECIAL" The Brat Pack actors are certainly a talented bunch. Everyone has a favorite. For me, it's a toss-up between James Spader and Anthony Michael Hall. John Cusack was mesmerizing back in his early-days. He was a teenager, but he looked, sounded and acted very adult for his age. "The Sure Thing" put him on the map and "Say Anything..." made him a household name. But while Crowe's "Say Anything..." was obviously a great movie, it was both a blessing and a curse for Cusack, who has rarely played anything else in his career. I know, I know. He's been in countless other movies. But "a rose by any other name..." His character, no matter what the movie, is essentially always Lloyd Dobbler. Spader sometimes played other types besides the oily Steff from "Pretty in Pink." His typecast-breaking turn came when he played the lead in this movie. But I know Cusack can do more. I keep waiting for him to. Which was one of my guilty pleasures of this movie. The story and plot are the right out of the old fable about the rich man and the poor man who come together and create something special... and then the rich man betrays the poor man and casts him aside. And the poor man plots to take revenge... Another big twist that "True Colors" has is it's twist in typecasting. Cusack specializes in playing sharp, calculated, smarter-than-average teenager... who's heartbroken and devastated... and is desperately trying to win back the girl. Here, Cusack plays a character who's as smart as the heroes he usually plays, though here he uses his intellectual gifts for evil instead of good. His goal is usually to win the girl's heart. Here he betrays the girl (and his close friend) in order to get what he wants. And Spader usually plays blue-blooded, silver-spoon fed, upper-class yuppie scummy villains. Here he's still a rich blue-blooded yuppie. But a hero, who uses his financial connections to right wrongs and do just. The two meet the first day of law school where there's a fender-bender and brief scuffle. Cusack angrily attacks Spader violently and blames him for the whole thing and the two have to be pulled apart. Later on, things get worse as they discover... their assigned to be roommates. Cusack smooths things over by admitting the whole thing was his fault. You'll see why. Afterwords, the two form a fast friendship and Spader even uses his financial backgrounds and connections to help Cusack out. Later we find out that Cusack is lying about his background to fit in and the payoff feels lifted out of a soppy, moralizing and insipid sit-com where today's moral is... "If you have to be someone else to get a friend, then they're really not your friend." Richard Widmark is great as well as the ailing senator who sees potential and ambition in Cusack after he sees what looks like Cusack doing him a favor, little realizing how dangerous Cusack is. Spader girlfriend considers breaking off the relationship for Cusack who can keep her bringing in big cash. She doesn't realize that Cusack is willing to betray her too, in order to get what he wants. One of the major problems is that their true colors are obvious from the beginning. Cusack is clearly someone not to trust from the start and Spader all but actually walks on water. Another is that the movie is too thin. There isn't enough entry. The movie... skims too much of the surface. And Spader's big plan and the finale is pretty tacked on. The movie aspires to be a movie like "Patriot Games" or "Citizen Kane." But everything is routine and predictable and there are precious few new touches to this tired formula. If screenwriter Kevin Wade could've given the script a bit more depth and discovery into these characters and done a little more with the formula, this could have really been something special. The cast does what it can, but inevitably, a good cast can only take a movie so far. Still, it's worth seeing just for Cusack turn towards the dark side and Spader as a yuppie with heart. Oh, well.... --Always Wearing His True Colors, Dane Youssef danessf@yahoo.com http://profile.myspace.com/index.cfm?fuseaction=user.viewprofile&friendid=58175682 http://www.google.com/profiles/youssef.daneyoussefcom.dane http://www.amazon.com/gp/cdp/member-reviews/ASKUZHOKQ1W3E/ref=cm_pdp_rev_title_1?ie=UTF8&sort_by=MostRecentReview#R2MFYILVVRXX73 http://www.imdb.com/user/ur2718160/comments-expanded?start=0&order=alpha http://wiki.answers.com/Q/User:DANE_YOUSSEF http://www.epinions.com/user-surfur http://en.wikipedia.org/wiki/User:DANE_YOUSSEF http://en.wikipedia.org/wiki/User:SURFUR http://uncyclopedia.wikia.com/wiki/User:DANEYOUSSEF http://www.movieweb.com/u/dane_youssef/reviews http://www.youtube.com/SURFUR http://www.youtube.com/user/DaneYoussef?feature=mhum http://hairmetal.ning.com/profile/DaneYoussef?xg_source=activity http://www.flickr.com/people/46939743@N07/ http://twitter.com/Dane_Youssef http://www.neoseeker.com/members/daneyoussef/
Dane Youssef
John Cusack, James Spader, Imogen Stubbs, Mandy Patinkin, Richard Widmark DIRECTED BY: Herbert Ross Best friends from law school to election night, their friendship is sorely tested when one learns of another's betrayal. It was a good movie with great performances from Cusack and Spader. At times I found myself thinking that the roles should be switched around. So use to seeing Spader playing the -excuse the language- asshole, and Cusack playing the good guy. But in the end it worked. It got a little boring at times and seemed to drag a bit in the middle, but the ending was where it got really interesting. Especially the play-out of there friendship. So it's well worth the watch. Or you can watch it for the simple fact that I did. I am a fan of both the leads and it was good seeing them in a movie together.
♥˩ƳИИ ƜѲѲƉƧ♥
Super Reviewer
True Colors Quotes
There are no approved quotes yet for this movie.