Edvard Munch
(1976)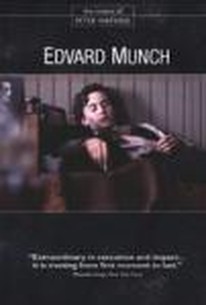 Movie Info
The troubled life and career of one of Norway's most celebrated artists is examined with documentary-style realism in this biography from celebrated filmmaker Peter Watkins. Edvard Munch (Geir Westby) was born in 1863 into a well-to-do and privileged family, but he had a unhappy upbringing; his mother and his younger sister died when he was at an impressionable age, and his father was cold, judgmental, emotionally distant, and unsupportive of his ambitions. As a young man, Munch fell in with the Scandinavian bohemian community and developed an appetite for alcohol, which further distanced him from his father. Munch also began an affair with a married woman he called Mrs. Heilberg (Gro Fraas), and his obsessive need for her had a seismic effect on his personality. Munch took up painting, but rather than follow the pattern of realism that was common at the time, Munch used unusual color schemes and distressed textures on his canvases to help convey the darker emotions he longed to express. Between his unusual techniques and pervasive themes of death, illness and eroticism, Munch's work was frequently lambasted by critics and gallery patrons alike, and he briefly exiled himself in Germany, where alongside Swedish playwright August Strindberg he struggled to find an appreciative audience for his challenging visions. Edvard Munch was filmed in the style of a documentary, with characters often addressing the camera as if being "interviewed" and hand-held cameras adding an informal and realistic tone. The film was produced for Norwegian television, but a shortened version was later prepared for international theatrical release. ~ Mark Deming, Rovi
Critic Reviews for Edvard Munch
Audience Reviews for Edvard Munch
Peter Watkins' "Edvard Munch" has a grueling length (210 minutes), but don't be afraid to watch it across two or three nights. It's well worth the labor. Director Watkins' experimental, faux-documentary style was established in earlier films such as "The War Game," "Punishment Park" and "Privilege" but, here, he refines his touch. It no longer feels like such a gimmick. The deadpan, academic narration remains (Watkins has far more lines than any onscreen actor), but the sense of an intrusive, anachronistic film crew isn't so prominent. Here, when characters break the fourth wall (and believe me, you could plan a drinking game around how often the lead actor wearily glances into the lens to indicate malaise), the move seems more like surreal abstraction than the suggestion of a camera in the room. This unusual biography mostly depicts the famed Norwegian painter's difficult emergence as an artist during his twenties, but a complex network of flashbacks reveals a horrifying childhood dominated by tuberculosis fears. (It's a safe bet that "Munch" contains more shots of people coughing up blood than any other non-horror film.) Munch's mother and sister both died prematurely of the disease, and he himself narrowly escaped death as a young teen. Other important motifs include the oppression of his conservative Protestant environment (his dour paintings were reviled throughout most of his life), his friendship with bohemian writer Hans Jaeger and a preoccupation with a mysterious lover/muse only known as "Mrs. Heiberg." The depiction of his work is remarkably tactile. The sound of his worn brushes scratchily grinding into the canvas -- shot in extreme closeup -- is hard to forget. One painting of a sick girl's bedside scene is particularly dwelled upon, and he apparently etched away on the same piece for months, adding multiple layers of paint and then abrading them away in dissatisfaction. Of course, most of us know Munch for "The Scream," but the film chooses to underplay this work in context -- after all, it didn't become so famous until after the artist's death. Over two and a half hours pass before the painting even enters the story. "Munch"'s structure is a marvel. The editing process must have taken forever -- it's a fiendishly elaborate maze of overlapping sound and time jumps (usually mirroring Munch's internal associations), and one can easily imagine Watkins pondering radical choices from minute to minute. This could have been an entirely different film, given a more linear design. But Watkins' aggressive presence is understandable and perhaps even necessary, considering that his authentic Norwegian cast is almost entirely novice, one-time actors. Strangely obscure, "Munch" is among the most compelling portrayals of an artist ever seen in cinema. You'll be driven to research the subject further -- guaranteed.
Eric Broome
Super Reviewer
This is one of the most moving, experimental films I have ever seen. Peter Watkins' political understanding of the times and his compassion for the struggling, alienated artist is superb. He has a unique method of linking the present to the painter's traumatic past, namely the deaths of his mother and sister from tuberculosis, when he was a boy. The camerawork and close-ups of individual faces is excellent. Munch's grief, when he loses the woman he loves, leads to his best works and a premature death. No other director has made a film about the inner and outer worlds of an artist as well as this. I highly recommend the film.
Cassandra Maples
Super Reviewer
I watched the first forty five minutes, fast forwarded to The Shriek / The Scream, rewound to the bit where his art style changed then turned it off. Probably fascinating if you're an avid fan of Munch.
Edvard Munch Quotes
There are no approved quotes yet for this movie.