Pickpocket
(1959)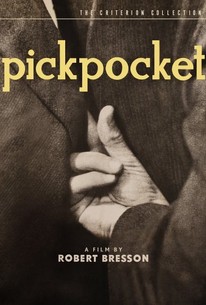 Movie Info
This incomparable story of crime and redemption from the French master Robert Bresson follows Michel, a young pickpocket who spends his days working the streets, subway cars, and train stations of Paris. As his compulsive pursuit of the thrill of stealing grows, however, so does his fear that his luck is about to run out. A cornerstone of the career of this most economical and profoundly spiritual of filmmakers, Pickpocket is an elegantly crafted, tautly choreographed study of humanity in all its mischief and grace, the work of a director at the height of his powers.
News & Interviews for Pickpocket
Critic Reviews for Pickpocket
Audience Reviews for Pickpocket
Bresson's unemotional style and wooden performances may not be accessible to everyone but it is impressive how he holds our interest in the many minutiae of the pickpocketing sleight of hand tricks, making them seem more like an art than a condemnable deed.
Carlos Magalhães
Super Reviewer
½
The appeal of "Pickpocket" is less about its story (the title is self-explanatory) and more about the deft economy of Robert Bresson's direction. Not a stroke is wasted. The depictions of intricate, tag-team pickpocket moves are especially sharp -- the eye can barely follow the action. "Pickpocket" has one glaring handicap: The untrained actors look strangely dazed throughout the film. This may be an intentional effect, but their stupor leaves little room for an emotional connection. Luckily, the movie is over so soon that it never has a chance to turn dull.
Eric Broome
Super Reviewer
Written and directed by acclaimed french film-maker Robert Bresson, Pickpocket is the stark story of an impoverished, would-be writer who takes to a life of crime, partly as a necessity and partly for the simple thrill of it. Michel (Martin LaSalle) rarely evokes much emotion during the course of the film, but his eyes speak volumes. His apartment is so stark, it doesn't even have a handle or lock on the door, just a flimsy little hook to keep it shut when he wants some privacy. He seems to have only one suit, which he wears at all times. His friend Jacques (Pierre Leymarie) tries to help him get a job, so he might buy some new clothes even, but it's an effort that's wasted on a disinterested party. When Michel comes to visit his dying mother, he meets the woman next door who has been caring for her. Jeanne (Markia Green) strikes his interest, but her pretty face is nothing compared to the allure of pickpocketing. He makes friends with other pickpockets, and learns a great deal from his companions (he's always studying to better himself at this craft). Only his conscience, in the guise of a police inspector, ever slows him down or gives him thought. As the film progresses, Michel gets more and more paranoid (but not enough to quit). In the dvd commentary, writer Paul Schrader (Taxi Driver) explains that Bresson was trying to upset the audience's sense of well-being by not following the rules one expects when sitting down to watch a film. He uses very little music in his film, using it only here and there, sometimes at appropriate times, sometimes at seemingly inappropriate ones. He also avoids showing key points to the film (something that should never happen), such as when Michel gets arrested early in the picture: one moment he's walking down the street, confident and on top of the world, the next he's sitting in the back of a police car. The actual arrest isn't shown. Whether Bresson was intentionally trying to upset the viewer or simply trying to upset the apple cart and shake things up a little bit, I'm not sure, but it's certainly an interesting movie.
Devon Bott
Super Reviewer
Pickpocket Quotes
There are no approved quotes yet for this movie.