The Quick and the Dead
(1995)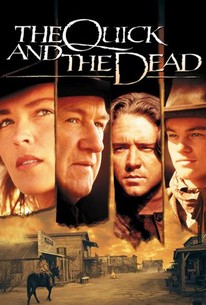 The Quick and the Dead Photos
Movie Info
Director Sam Raimi brings his trademark comic book-influenced visual panache to this post-modern Western. Sharon Stone stars as Ellen, a mysterious female gunslinger who arrives in the frontier hamlet of Redemption for a contest pitting quick-draw artists against each other. The event is the brainchild of Redemption's evil, corrupt mayor, Herod (Gene Hackman), a criminal who has taken over the town and charges a 50% tax on local businesses. The pot for Herod's deadly game has swollen, attracting numerous colorful gunfighters from around the territory. As each battle thins the ranks of players, the pasts of several participants are revealed. Ellen is seeking revenge on Herod for a heinous past injustice. The fast-talking braggart known as "The Kid" (Leonardo DiCaprio) may in fact be Herod's son. The pacifist Reverend Cort (Russell Crowe), who refuses to participate in the bloodshed, is the fastest draw in the West and a former colleague of Herod's. After several spectacular slayings, Ellen and Herod stage a final showdown, but not before he has made her an unexpected proposal. The Quick and the Dead (1995) is dedicated to veteran Western actor Woody Strode, who appears in a cameo as Redemption's coffin maker, his final performance. ~ Karl Williams, Rovi
People Who Like this movie also like
Critic Reviews for The Quick and the Dead
Audience Reviews for The Quick and the Dead
½
A female gun slinger enters a quick draw tournament in her home town of Redemption to revenge herself against the outlaw who murdered her father. One of Sam Raimi's lesser known efforts, this is a fun comic-strip style horse opera that's more of a homage than a modern-day western in the mould of something like Unforgiven. It references High Noon, High Plains Drifter and everything in between with good turns from Sharon Stone as the woman with no name, Russell Crowe as a reformed gun slinger and a young Leonardo DeCaprio as the outlaw's upstart son. But this film belongs lock, stock and barrel to Gene Hackman's supremely hissable corrupt landowner who rules "his" town with an iron fist. An unpretentious, unfussy and stylish story of vengeance from the old school.
Remember when Sharon Stone was big? remember that? seems along time ago doesn't it, also seems odd to think it too with her rather bland boring 80's look. Bit of a cult this one with a fantastic line up of character actors and stars including DiCaprio, Hackman, Keith David, Henriksen, Tobin Bell, Pat Hingle, Gary Sinise, Russell Crowe and Bruce Campbell in deleted scenes!! how do ya like dem apples Tex? The whole film is kinda like a videogame concept really or like some modern flicks which bring together a bunch of stars in a kind of 'beat em up'/'shoot em up' style tournament with silly corny characters having individual skills that set them apart from each other, this is the western version. Its a pretty fun flick to be sure but its also pretty corny at times with some dubious acting namely from Stone who really can't act, her blonde hair somehow gets her work. The characters are all quite unoriginal being a western, not much choice but the obvious, but admittedly your not sure who will die next. Hackman as usual is brilliant as the evil 'Herod' and you really wanna see him get his comeuppance haha he gives the film allot of edge which it badly needs as at times it does tend to feel a bit like a TV movie. Raimi does well to inject fuel into the western genre with this (for the time) and the colourful characters are fun to watch despite being cliched, homage to Sergio Leone? sort of, a good try but maybe a touch too glossy and not enough blood.
Phil Hubbs
Super Reviewer
½
Gunslingers galore! A fun and spirited Western, about a duel tournament between an impressive array of charismatic characters. Worth seeing just for the extraordinary cast, which among many famous names includes Gene Hackman, Russell Crowe, Lance Henriksen and a very young Leonardo DiCaprio. In the lead we also follow a tough and gritty Sharon Stone, who unfortunately drags down the film a bit with a not-so-believable and bland performance. She also looks a tad misplaced in this sort of environment. It might have more to do with the fact that I've never been a fan of hers though. Another regrettable weakness is the direction. While adequate on the whole, there are choices in camera angles and visual style, that is less-than-gracefully executed. One of the trademarks of Western movies is that they often have great cinematography, but I suppose this was the exception that confirms the rule. The excitement that comes with the duels, as well as the wonderful supporting cast, makes it enjoyable nonetheless though. They even have a gunslinger from Sweden, although sadly he's one of the first to bite the dust of defeat.
The Quick and the Dead Quotes
| | |
| --- | --- |
| Herod: | If that swede had been any slower he'd a had birds nesting in his hat |
| Herod: | If the swede had been any slower, he'd had birds nest in his hat. |
| | |
| --- | --- |
| Herod: | As soon as the rain ends I'm going to make an example out of you |
| Herod: | As soon as the rain ends I'm going to make an example out of you. |
| | |
| --- | --- |
| Herod: | It takes a lot to scare me and I love the sensation |
| Herod: | It takes a lot to scare me. I love the sensation. |