The Old Man and the Sea
(1958)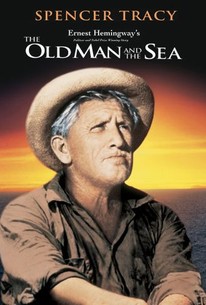 Movie Info
Ernest Hemingway's short novel The Old Man and the Sea was probably unfilmable to begin with, but this didn't stop John Sturges from trying to cinematize Hemingway's tight little character study. Spencer Tracy is the Old Man, a Cuban fisherman who tries to haul in a huge fish that he catches far from shore. Tracy's tiny boat is besieged by sharks and by natural elements, but the Old Man stubbornly sticks to his job. In the end, the fish is nothing more than a skeleton, and the Old Man returns to his tiny hovel to "dream about the lions." Spencer Tracy may have been dreaming about the Oscar when he agreed to make this film, but Old Man and the Sea is defeated by pretentiousness and by several unconvincing "sea" scenes shot in a studio tank (even though both Tracy and director Sturges underwent incredible hardships filming in a real boat on the real ocean). Old Man and the Sea was remade as a 1990 made-for-TV movie starring Anthony Quinn, which compounded the mistakes made in the Tracy version by grafting on a pointless love story.
Critic Reviews for The Old Man and the Sea
Audience Reviews for The Old Man and the Sea
½
Unfortunately one of Spencer Tracy's worst. I no longer believe in unfilmable books but this one is a tough one to adapt and Sturges and Tracy can't pull it off.
John Ballantine
Super Reviewer
The Old Man and the Sea is by no means the best thing I've seen Spencer Tracy do but it wasn't bad. Its a simple story that's pretty well photographed and pretty well acted as well. The movie didn't live up to all the hype I'd heard about it over the years but then again I haven't had much exposure to Hemingway up to this point. That arm-wrestling match flashback was pretty cool though. When all was said and done, it kind of made me want to watch Bad Day at Black Rock really bad...
Michael Gildea
Super Reviewer
Beautiful and touching movie. A history about hope .Very beautiful cinematography and brilliant act from Spencer Tracy
Andre Tavares Simoni
Super Reviewer
The Old Man and the Sea Quotes
There are no approved quotes yet for this movie.