Moby Dick
(1998)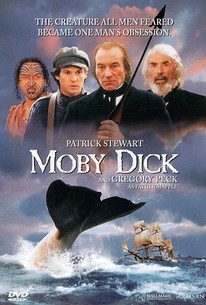 Movie Info
Previous film versions of Moby Dick insisted upon including such imbecilities as romantic subplots and happy endings. John Huston's 1956 Moby Dick remains admirably faithful to its source. "Call me Ishmael" declares itinerant whaler Richard Basehart as the opening credits fade. Though slightly intimidated by the sermon delivered by Father Mapple (Orson Welles in a brilliant one-take cameo), who warns that those who challenge the sea are in danger of losing their souls, Ishmael nonetheless signs on to the Pequod, a whaling ship captained by the brooding, one-legged Ahab (Gregory Peck). For lo these many years, Ahab has been engaged in an obsessive pursuit of Moby Dick, the great white whale to whom he lost his leg. Ahab's dementia spreads throughout the crew members, who maniacally join their captain in his final, fatal attack upon the elusive, enigmatic Moby Dick. Screenwriter Ray Bradbury masterfully captures the allegorical elements in the Herman Melville original without sacrificing any of the film's entertainment value (Bradbury suffered his own "great white whale" in the form of director Huston, who sadistically ran roughshod over the sensitive author throughout the film).Cinematographer Oswald Morris' washed-out color scheme brilliantly underlines the foredoomed bleakness of the story. Moby Dick's one major shortcoming is its obviously artificial whale-but try telling a real whale to stay within camera range and hit its marks. ~ Hal Erickson, Rovi
Critic Reviews for Moby Dick
Audience Reviews for Moby Dick
As far as TV Movies are concerned, Moby Dick is a very good film. Nonetheless, it has its flaws, but for what it is, it's a good version of a classic tale. I've never read the book; nevertheless, this is still an entertaining film. Patrick Stewart gives a good performance here, and director Franc Roddam delivers a film that is entertaining. At times, the film is flawed, but what do you expect from a made for TV movie? For what it is, Moby Dick is a must see film, and despite its imperfections, I very much enjoyed this film. Now the adaptations of Moby Dick have been quite inferior, as I understand it, and I haven't seen them, but this adaptation is pure entertainment and high adventure. Though the film has its imperfections, this film has plenty to offer. If you're looking for a good adventure film, then this version of Moby Dick is the one to watch. Like I previously stated, the film is imperfect, but is definitely worth watching, and is a far better made for TV film than what is usually produced. This may appeal to fans of the novel, and anyone looking for a good above average film to watch. Not perfect, but it entertains you nonetheless. The reason the film does work well is the very good cast of actor who deliver on-screen. Of course the key performance belongs to Patrick Stewart who lights up the screen. With a cast like this, this version is a must see for Moby Dick fans.
½
Patrick Stewart is a wonderfully crazed Captain Ahab.
Sunil Jawahir
Super Reviewer
½
Much better than I expected for a TV-movie. I'm one of the few people who've never read the book ( I must have skipped school that semester) or seen the Gregory Peck version, so I didn't know what to expect of the story. This held my attention throughout its 4 hour (commecial television) running time. Patrick Stewart was excellent as the whale-obsessed Ahab. Henry Thomas and the rest of the cast held their own. I particularly enjoyed Gregory Peck coming back to the fold as a minister of the Nantucket church. A well-done effort all around.
Moby Dick Quotes
There are no approved quotes yet for this movie.
Discussion Forum
Discuss Moby Dick on our Movie forum!