Moby Dick
(1998)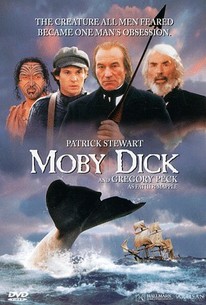 Movie Info
Director Franc Roddam and co-scripter Anton Diether adapted Herman Melville's 1851 classic for this four-hour TV miniseries sea adventure. Ishmael (Henry Thomas) ignores the warnings of dockside prophet Elijah (Bruce Spence) and joins the crew of the whaling ship Pequod. Ismael befriends Polynesian harpooner Queequeg (Maori actor Piripi Waretini), hears a sermon by Father Mapple (Gregory Peck, star of the 1956 Moby Dick), and meets the obsessed Captain Ahab (Patrick Stewart), who lost his leg to the great white whale Moby Dick and now seeks vengeance on the looming leviathan. For effects, Roddam used a three-sectioned Moby Dick, added computer graphics, and shot Pequod footage in a tank at an Australian military base. TV Guide described Stewart's performance as "mesmerizing and passionate." The $20 million production aired March 15-16, 1998 on the USA Network.
Critic Reviews for Moby Dick
Audience Reviews for Moby Dick
As far as TV Movies are concerned, Moby Dick is a very good film. Nonetheless, it has its flaws, but for what it is, it's a good version of a classic tale. I've never read the book; nevertheless, this is still an entertaining film. Patrick Stewart gives a good performance here, and director Franc Roddam delivers a film that is entertaining. At times, the film is flawed, but what do you expect from a made for TV movie? For what it is, Moby Dick is a must see film, and despite its imperfections, I very much enjoyed this film. Now the adaptations of Moby Dick have been quite inferior, as I understand it, and I haven't seen them, but this adaptation is pure entertainment and high adventure. Though the film has its imperfections, this film has plenty to offer. If you're looking for a good adventure film, then this version of Moby Dick is the one to watch. Like I previously stated, the film is imperfect, but is definitely worth watching, and is a far better made for TV film than what is usually produced. This may appeal to fans of the novel, and anyone looking for a good above average film to watch. Not perfect, but it entertains you nonetheless. The reason the film does work well is the very good cast of actor who deliver on-screen. Of course the key performance belongs to Patrick Stewart who lights up the screen. With a cast like this, this version is a must see for Moby Dick fans.
½
Patrick Stewart is a wonderfully crazed Captain Ahab.
Sunil Jawahir
Super Reviewer
½
Much better than I expected for a TV-movie. I'm one of the few people who've never read the book ( I must have skipped school that semester) or seen the Gregory Peck version, so I didn't know what to expect of the story. This held my attention throughout its 4 hour (commecial television) running time. Patrick Stewart was excellent as the whale-obsessed Ahab. Henry Thomas and the rest of the cast held their own. I particularly enjoyed Gregory Peck coming back to the fold as a minister of the Nantucket church. A well-done effort all around.
Moby Dick Quotes
There are no approved quotes yet for this movie.