Senseless
(1998)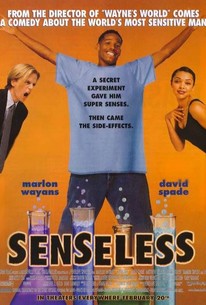 Movie Info
Hard-working Scott Thorpe feels that he is a failure in work, in frats, and in hockey. To try to earn extra cash, he volunteers to try an experimental drug. Eventually the drug heightens all of his senses, giving him almost super-human power. But an overdose literally leaves Scott senseless
People Who Like this movie also like
News & Interviews for Senseless
Critic Reviews for Senseless
All Critics (17) | Top Critics (6) | Fresh (1) | Rotten (16) | DVD (2)
Have we seen this before? Here's another comedy about a substance that supernaturally alters its hero's life - a premise that also sustained Jerry Lewis's Nutty Professor, not to mention Eddie Murphy's remake.

Moments are simply that, moments, which are not enough to lift this fantasy/comedy above its one-joke premise.
Audience Reviews for Senseless
Wayans is not as funny as he thinks he is, and this is a flat out stupid, awfully sexist male fantasy made by people who obviously don't have a very good idea how senses work (and apparently even mistake them for reflexes) - and it hits absolute rock bottom in the last 10 minutes.
Carlos Magalhães
Super Reviewer
The premise is somewhat interesting, and there are some funny scenes, but overall it's not that great. Most of the jokes are pretty stupid.
When I first saw the previews to "Senseless" a couple of years ago, I thought it was gonna be hilarious and I knew I had to see it. I finally saw it about 2 weeks ago and it is funny, but not hilarious. Marlon Wayans tries out an experiment that some scientists have made, not really knowing what it could do to him. One day he takes an overdose and things really get out of the ordinary. He starts to see double and gets numb all over, (in other words, senseless). That's when the movie gets good and it stays that way almost through the rest of the movie. If you like good comedy movies, I recommend seeing "Senseless." My only complaints were that the movie wasn't as funny as I first thought it would be and it's a little slow getting to the funny parts. Other than that, it's worth seeing. NOTE: That was my Amazon review from the year 2000. Not as funny as I thought it'd be, but still has a couple memorable parts.
Jason Owens
Super Reviewer
Senseless Quotes
There are no approved quotes yet for this movie.