The Return
(2003)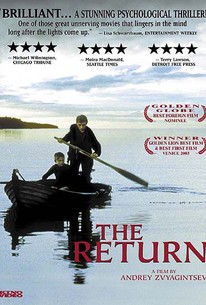 Movie Info
A woman (Julie Walters) tries to put her life back together after being released from prison, where she served a long sentence for killing her husband in an alcoholic rage. But events lead her to believe she may not have been the murderer. Matt Dempsey: Neil Dudgeon. Maggie Lynch: Ger Ryan. Jimmy Hunt: Glen Barry. Fee Cullen: Eileen Colgan.
Critic Reviews for The Return
Audience Reviews for The Return
½
This family trip moving in a thrilling manner is quiet captivating for what it is, but then somehow I'd got the notion that the genius was going to end it leaving behind pieces for us to put together..... and that didn't suit my taste. Disappointing for what it gives away, but entertaining for what it maintains: the thrill. Wish the mysterious touch was as satisfying as the thrill. Yet, it's still worth a watch IMO. And I've a feeling that you're less bound to be disappointed by the genius touch that disappointed me. P.S. If you feel that the above comment includes any spoiler, kindly note that it's absolutely unintentional. Find one at your own risk and pleasure.
familiar stranger
Super Reviewer
½
A dark, unsettling look at two boys who struggle to come to grips with their father's (Konstantin Lavronenko) sudden return to their family after a 12 year absence, and how he takes them on a camping trip that turns into a test of each one's masculinity. Although the amount of ambiguity the film contains tends to be a little annoying at the conclusion given the film's unwillingness to give really any answers, director Andrei Zvyagintsev's point is clearly to have you as confused as the boys who are being mentally tortured by their father. Throw in a sudden, shocking twist 3/4 of the way through that is impossible to see coming, some beautiful still photography, and the fact that the actor who plays the older boy (Vladimir Garin) died a day before the film's release due to a similar accident that takes place in the film, it is a very memorable, unmistakably powerful little movie. Not for all tastes to be sure, as this is an art-house film inside and out, but a watchable one.
Dan Schultz
Super Reviewer
The Return aka: ??????????? . This is a Russian Film sold by Kino International (Check there website). It fits in the category of World Cinema. It is in Russian with English Subtitles. The director Andrei Zvyagintsev has put out 3 other films, all I am told are very good. Each and every Kino International Film that I have watch has been very good. I am sure there are some who would disagree with me, and I am sure there are most wouldn't even pickup a Kino Film. But this one is worth 5 stars, its about 2 boys who come home one day to find their father who has been out of there life?s for 12 years, no explanation as to where he has been, sailor, prisoner, or gangster, we do not know or are we told. The father takes the boys on a trip, one boy shows his father respect and is kind, the other hates the man and makes his life miserable. many twist throughout. Its a must see, acting is beyond, above the bar, nothing but great. 5 stars nothing less, put away Spiderman and pick up a different film, once you see one of this type you might not go back to the common stuff. Its in my collection.
Bruce Bruce
Super Reviewer
The Return Quotes
There are no approved quotes yet for this movie.
Discussion Forum
Discuss The Return on our Movie forum!