Godzilla Vs Gigan 1972
(1977)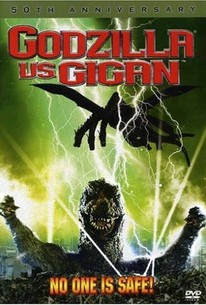 AUDIENCE SCORE
Critic Consensus: No consensus yet.
Movie Info
Known to Stateside moviegoers as Godzilla on Monster Island, this slight but fun 1972 entry in the Godzilla franchise pits the King of the Monsters and four-legged cohort Angilas against aliens bent on world domination, as well as their old nemesis, the space dragon King Ghidorah, and a new creature, the birdlike cyborg Gigan. Diehard G-fans may be disappointed by the film's kid-friendly tone (a shift in direction signaled several years earlier by Godzilla's Revenge) and its overreliance on stock footage from other Godzilla films to depict the monsters' orgy of destruction, as well as an unfortunate decision to make Godzilla "talk"; however, children (Gigan's real audience) will undoubtedly enjoy the frantic action. Parents should know that there are two brief moments of blood-letting (Godzilla and Angilas both suffer wounds from a buzzsaw that juts from Gigan's torso), but otherwise, the film is free of objectionable material. --Paul Gaita
Critic Reviews for Godzilla Vs Gigan 1972
Audience Reviews for Godzilla Vs Gigan 1972
½
I love the design of Gigan. He is a great monster and an awesome villain. But every scene witha human being will make you cringe.
Bryan Davis
Super Reviewer
Godzilla and a giant alien chicken. Great stuff. It's back to the very basic for Godzilla after many were disappointed by the previous effort (I loved it). It kind of throws away everything Godzilla started as. Now we have a fairly kid friendly film, in which aliens design an amusement park in the hopes of controlling some of the monsters from monster island. A manga artist uncovers this bizarre plot and soon the aliens release their own monster, Gigan. Fun fights and frolics abound, even if these movies are getting rather crowded.
Luke Baldock
Super Reviewer
½
Gigan's first appearance and in the English dub, Godzilla actually speaks!
Anthony Valletta
Super Reviewer
Godzilla Vs Gigan 1972 Quotes
There are no approved quotes yet for this movie.