Infection (Kansen)
(2004)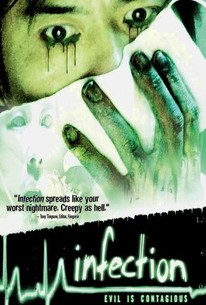 AUDIENCE SCORE
Critic Consensus: No consensus yet.
Infection (Kansen) Photos
Movie Info
A case of medical malpractice and a dead patient lead to panic and a cover-up in part one of director Masayuki Ochiai's horror trilogy. After the hospital staff buries the evidence, another patient turns up dying from peculiar symptoms, and before you know it, the doctors connected to the conspiracy begin coming down with a strange -- and lethal -- infection. Can anyone stop it?
News & Interviews for Infection (Kansen)
Critic Reviews for Infection (Kansen)
Audience Reviews for Infection (Kansen)
This was scary. But also predictable. Could have been better.
Dead Angel
Super Reviewer
Infection is nothing really but 100% near liner nothings that are trying to scare you but really end up not doing nothing, I think it relays on that black crap coming out of your body for you to say more then one WTF. In the books this film has every known and really boring horror elements that tries to freak you out I mean walking around a corner with that strange music and you expected to think something's there, Well no you already know what it is and what is going to happen you don't have to be some freeken mastermind to get that. Simple story that has a million of nothing. An understaffed and dying hospital at the wrong end of town is going out of business but they get a patent in with a black rash is admitted but they refuse but end up taking them, like always. Not long after very strange things happen and every few seconds you're throwing a WTF and how the fuck is that possible. Let me start by saying the story is slightly interesting but bad you can easily see the mistakes and flaws. The acting from Koichi Sato and Masanobu Takashima is slightly above average and you can easily see there flaws. OMG a black rash and what the fuck do you want me to do about it? That's what I would have said. It has every known horror element but no zombies as its poster would show, it has everything from dark corners to nothing but some very good lighting effects. No real scares though some scenes send a major shiver up your spine but that's it. The music is okay but that's about all I think. I come to a close and I say if you're a major fan of our stuff go for it.
Ariuza koraw
Super Reviewer
One of the best horror movies I have ever seen so dark and frighting. I like these kinds of horror movies they frighten you that's what I like to see. But recently I watched the New York Ripper and that was good but it's not my type of horror movie. Its just way over the top with gore and violence. Films like these are dark and bleak and the eyrir noises get to you. This starts out as what seems to be a straight-forward story about a mysterious illness at a desolate, decaying hospital. That's not to say that there aren't scary, effective scenes one after the other, because there are. The movie holds one's attention as, one after another; victims of a horrific, body-dissolving disease go insane and turn into blood gashing people. And then, again, things twist around, and in the end we're not left with a tidy, comfortable resolution. As we're warned at the beginning of the movie, reality is all about perception, so one can never be sure that what one thinks is what's really happening. In the end, we don't know what's actually happened throughout the movie. The atmosphere is extraordinarily creepy and tense from start to finish. We know that something's boiling beneath the surface; we just don't know what it is. We never find out, but in the end it doesn't matter at all. That's the only real resolution here. The acting is rather brilliant seeing them frightened to walk around another corner. As well as goes for the music. Lots of people including me have seen that Italian horror movie susprira I have to say they tried to do the same thing in this movie when she is looking out the window. Many viewers probably don't feel comfortable with something so ambiguous; we're used to stories having definitive conclusions. This one doesn't. Fear doesn't have to be rational, and it usual isn't. Same goes for the ending. But really this is a must see horror movie trust me its watch the watch. I am aware this might not be my best review I am still looking for a writing style. Keiko's score 89-100
Infection (Kansen) Quotes
There are no approved quotes yet for this movie.