Vodka Lemon
(2004)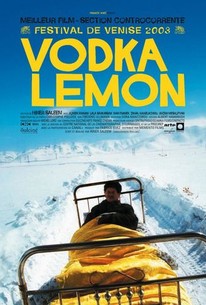 Movie Info
In a remote, isolated village in post-Soviet Armenia, Hamo, a widower with a pitiful pension and three worthless sons, travels daily to his wife's grave. There he meets the lovely Nina, who is communing with her late husband. The two are penniless--she works in a local bar that is about to close down, while he has been forced to start selling his meager possessions. All seems hopelessly bleak, yet as Hamo begins to court Nina, their unexpected union revitalizes them.
Critic Reviews for Vodka Lemon
Audience Reviews for Vodka Lemon
[font=Century Gothic]"Vodka Lemon" takes place in Armenia where Hamo(Romen Avinian) is an aging widower who visits his wife's grave everyday, keeping her informed of what is going on in his life. Currently, his son, Kamo, is in Paris looking for work and is not able to send any money back home. Disappointed, Hamo is forced to sell his prized wardrobe. Also at the cemetary, is Nina(Lala Sarkissian), a middle-aged women who cannot make ends meet even though she works as a bartender.[/font] [font=Century Gothic][/font] [font=Century Gothic]"Vodka Lemon" is a droll movie made in the tradition of Kusturica and Kaurismaki about an Armerian village that is still struggling about ten years after the fall of the Soviet Union.(The resplendent location filming during winter helps.) Actually, the movie may be a little nostalgiac for the time before Armenia became independent. At least, the bus service is frequent and there is still hope. [/font]
Vodka Lemon Quotes
There are no approved quotes yet for this movie.