The Syrian Bride
(2005)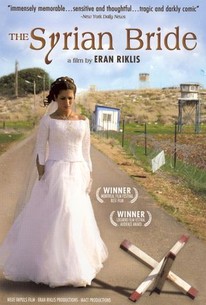 Movie Info
A family deals with the typical anxieties of a wedding day while also confronting the political turmoil of the Middle East in this drama, a collaboration between Israeli and Palestinian filmmakers. Hammed (Makram J. Khoury) is a leading political figure in Majdal Shams, a Druze community that has been under Israeli occupation since the late '60s. Years ago, Hammed arranged for his daughter Mona (Clara Khoury) to marry Tallel (Derar Sliman), who has since become a successful actor in Syria. Hammed has gathered the family together to see Mona off, but the occasion is a bittersweet one -- given the combative relationship between Israel and Syria, once Mona crosses the border with her husband, it's unlikely she will ever be able to return. Hammed's oldest son, Hattem (Eyad Sheety), comes back from Russia, where he now lives with his wife, but his father still refuses to forgive him for leaving the land of his birth. Marwan (Ashraf Barhoum), a younger son, is a businessman living in Italy who uses his visit home as an opportunity to visit Jeanne (Julie-Anne Roth), an American United Nations representative he's been dating. And daughter Amal (Hiam Abbass) helps her sister Mona deal with the stress and details of her big day as she struggles to live as a modern woman while married to Amin (Adnan Tarabshi), who wants his spouse to follow a more traditional path. Makram J. Khoury was ideally cast as Hammed in at least one respect -- he's the real life father of Clara Khoury, who plays his screen daughter Mona.
Critic Reviews for The Syrian Bride
Audience Reviews for The Syrian Bride
Heartbreaking but well told story of a wedding across political lines. I don't think anyone will forget the very poignant depcition of a bride stranded at a border crossing unable to be a participant in her happy day.
John Ballantine
Super Reviewer
½
Not much of a political statement and not much of a drama either. I did not connect to the main characters and after a while all I wanted to do was fast forward to the end. Solid performances by the whole cast did not save the film from mediocracy.
Nicolas Korovessis
Super Reviewer
[font=Century Gothic]In "The Syrian Bride", it is Mona's wedding day. What complicates this is that she is a member of the Druze people living in the occupied Golan Heights area of Israel. She has not met her future husband. He is a popular television personality in Syria. Once she gets married, she will go to Syria and cannot return. Her family will never see her again.(Family conferences tend to be conducted by bullhorn over the border.) [/font] [font=Century Gothic][/font] [font=Century Gothic]Mona's father is on parole and cannot venture to the border to see her off. Her sister is married with children and seeks to restart her education. One brother is a wheeler-dealer returning from Italy. Another brother is persona non grata for the past eight years for marrying a Russian woman.(The Druze elders have threatened to disown the father if he accepts him back.) Oh and there is the pro-Syria demonstration happening on the same day...[/font] [font=Century Gothic][/font] [font=Century Gothic]"The Syrian Bride" would be truly surreal if the situation was not so serious. This is an excellent, multi-layered film that contrasts the Druze who are stuck between two countries and the draconian treatment of the women. It is hard to believe there are arranged marriages in this day and age. [/font]
The Syrian Bride Quotes
There are no approved quotes yet for this movie.