Darwin's Nightmare
(2005)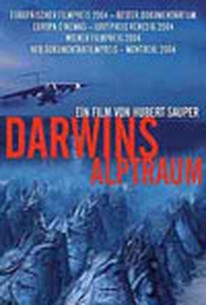 Movie Info
This film exams the ever-increasing strife between locals, suffering from the ravages of war in Africa, and those profiting from local fishing industries. The dusky blue waters of Lake Victoria stretch lazily across the Tanzanian plains, but beneath the placid surface, a massacre has taken place. In the 1960s, the Nile perch, an enormous variant of the American variety, was experimentally introduced into the lake and has wiped out practically all other life. Disastrous for local communities, the situation is a bonanza for the multinational factories that process and ship tons of perch abroad. Thus does globalization feed its lucrative foreign markets while the locals starve to death.
News & Interviews for Darwin's Nightmare
Critic Reviews for Darwin's Nightmare
Audience Reviews for Darwin's Nightmare
I remember seeing the large aquarium at the Toronto Zoo showing all the fish species that call Lake Victoria home. It is a large lake but a fragile one and this film points out how war and poverty often provide mankind with no choice but to introduce destructive species into ecosystems.
John Ballantine
Super Reviewer
[font=Century Gothic]"The Untold Story of Emmitt Louis Till" is a documentary about 14-year old Emmitt Louis Till, who was tortured and lynched while on vacation with relatives in Mississippi in 1955. This and the failure to convict the killers in a courtroom were one of the main sparks of the Civil Rights Movement. This documentary really does not provide any new information and simply relies on talking heads and archival material.(One of the interviews is with Till's mother who provides the emotional core of the movie.) The most informative parts involve Till's funeral in Chicago and the preparations for that. There is a very odd coda, though. The main point of this documentary is that there are few things more powerful than a mother's grief.[/font] [font=Century Gothic][/font] [font=Century Gothic][color=navy]"Darwin's Nightmare" is a powerful documentary about the thoroughly catastrophic ecosystem of Lake Victoria in Tanzania, a country on the edge of famine as it is. Some years before, Nile Perch were introduced into the lake which not only killed off all the other fish in the lake but also cannibalize themselves. Humans are affected because if they do not have one of the relative handful of jobs involved with the catching and processing of the fish(which are all shipped off to Europe without anything beneficial in return), then they must turn to prostitution, find some other way to survive or starve. But even for the people who do work, life can be risky - HIV/AIDS is rampant, fishing is itself dangerous and the local airport's primitive conditions make things a little risky trying to take off and land. The movie interviews people involved like factory managers, airport security, Russian pilots, a prositute, a minister and a local artist.(No outside experts are interviewed but we can see for ourselves that something is seriously wrong here.) My only complaint is that none of the people lucky enough to work in the factory are interviewed to get a sense of how their lives are. This is an excellent documentary about neo-colonialist attitudes that allow for people to make a buck at the expense of other people they have no interest in helping.[/color][/font]
Darwin's Nightmare Quotes
There are no approved quotes yet for this movie.