Suicide Killers
(2006)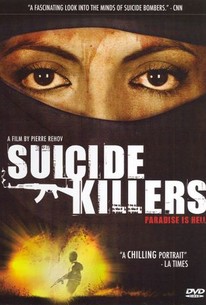 Movie Info
Take a compelling look at the point where religious fanaticism gives way to murderous intent as politically minded filmmaker Pierre Rehov explores the mind and motivations of the contemporary Middle Eastern suicide bomber. Though interviews with both the families of successful suicide bombers and would-be suicide bombers who attempts to achieve martyrdom were somehow thwarted, Rehov probes his subjects to get answers that are often as surprising as they are shocking.
Rating:
NR
Genre:
,
Directed By:
In Theaters:
On DVD:
Runtime:
Studio:
Critic Reviews for Suicide Killers
Audience Reviews for Suicide Killers
½
It's about time we get the other side of the story. I am not condoning their method of carrying out a war because that's all a suicide bomber is, "a poor man's bomb". They are fighting a war, right? OK, so watch this documentary as if you were watching a History Channel special on WWII. There's a lot of information in this film about why Arabs are extreme (as defined by the West). Check it out, it's worth your time.
David D
In Northern Ireland, they call it "The Troubles," which is a nicely innocuous way of describing blowing people up in the name of a God who enjoined His followers to turn the other cheek. And that's the same God on both sides, too, no matter how you look at it. I'll not get into whether Allah is Jehovah here, because that's too complicated to sum up in this space, and I'm certainly not a theologian except in a very limited, amateur way. I'm also going to try to avoid the discussion of whether or not there is Koranic justification for suicide bombing of civilians, because I assuredly don't have enough knowledge of the Koran to make the point one way or the other. I will, later, be getting into my personal opinion of the conflict, because you can't talk about this film properly without it. At the moment, I will merely note that neither the Palestinians nor the Jews seem to have come up with a clever euphemism for the conflict. Maybe it's the language barrier. [i]Suicide Killers[/i] is an attempt to analyze the social, religious, and cultural aspect of suicide bombing and what causes it. Obviously, the filmmaker, Pierre Rehov, cannot interview [i]successful[/i] suicide bombers; however, he interviews unsuccessful bombers, a prospective bomber, women who planned bombings, families of bombers, victims of bombings. He includes clips from various Arabic-language TV shows explaining the reasons and purposes of suicide bombing. Justifications of hatred. An Arab survivor of two suicide bombings who has begun working for peace tells of the death threats he has recieved. There are people who do not want peace, and that is probably true on both sides. Definitely true on both sides. It's true that the movie primarily focuses on the Palestinian bombers and the culture behind it, but I don't think Rehov would dispute that the Jews in Israel are not perfect. And that's the issue, really. The State of Israel was formed in a way that was totally unfair to the Palestinians already living there. I believe that a Jewish state is necessary, and I know that there are religious and historical reasons to which it to be placed there. I think the Jewish government in Israel has been consistently mistreating the Palestinians who were, after all, there when Israel was formed as a country. I think the Palestinians have a right to be upset by this, and I don't think the Jewish Israeli government has the slightest interest in letting them have a say. It's shameful, and I think that the US as Israel's greatest supporter needs to step in and tell them that. On the other hand, I think that suicide bombing of civilian targets is a great shame, a great wrong. I think it only hardens resistance on the Israeli side--it's counterproductive. I think they need to take a lesson from how the US responded to September 11; those attacks only made the US get involved further. No one was going to back down after that. I do not know how Israeli television teaches young Jewish children about dealing with Palestinians; Rehov does not choose to tell us. I do know that Palestinian television consistently teaches children that Jews are the enemy. Boys as young as fifteen (some claimed to be even younger) have been involved in bombings or attempted bombings, including the case of Hussam Abdo, who appears to be mildly retarded. Various groups claim not to recruit children, and it is certainly true that child bombers are far less of a problem in Israel and the occupied territories than child soldiers in various parts of Africa. However, groups which use suicide bombers are definitely recruiting martyrs. How much more helpful it would be if those same children were able to interact freely with Jewish children and learn that they're not all that different after all. I am not claiming Rehov as an unbiased source; I have little doubt that it would have been possible to find families of suicide bombers who were horrified by their relatives' choices. However, while the aforemention Abdo's brother says that he would like to hunt down and kill whoever sent the boy on that mission, part of his complaint is that Abdo was only sixteen at the time. If he had been eighteen, Abdo's brother says, it would have been different.
Edith Nelson
Suicide Killers Quotes
There are no approved quotes yet for this movie.
Discussion Forum
Discuss Suicide Killers on our Movie forum!