Descent
(2007)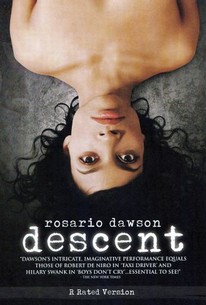 TOMATOMETER
AUDIENCE SCORE
Critic Consensus: Descent has the potential to make a statement about sexual violence, but falls flat by focusing on revenge rather than Rosario Dawson's emotional state.
Movie Info
A promising college student who becomes bent on seeking revenge after a shocking act of violence is committed on her. Maya's life seems blessed. The boys can't resist her charm and beauty and she has a promising academic future. Yet, she still feels alone. Jared's life also is blessed with ease. The two begin to flirt and date, but on one night things move too far too fast. Maya tries to pull away, but he won't let go. After this violation, Maya breaks away from everything familiar. She enters the new semester transformed: bold and dynamic in a world that suddenly seems small and protected to her. She vows vengeance on her attacker. She will be in control.
News & Interviews for Descent
Critic Reviews for Descent
Audience Reviews for Descent
½
Strange and unsettling -- apparently for no reason.
Christian C
Super Reviewer
½
After a brutal date rape, a woman discovers her sexual power and the need for revenge. Dark in its subject matter and the complexion of the film, Descent whiles most of its 100 minutes in as many depressing and angering scenes one could imagine, and there's not a single moment of comic relief. There are multiple rape scenes in this film, each of which goes on longer than we're used to seeing. I understand that the point of the film may be realism, but there's a line between wallowing in the mire and effective dramatic presentation of horrid events, and Descent dove off the cliff of wallowing. Also, I wonder about what the film is saying. Maya is raped, and in response, she discovers her ability to manipulate others using her sexuality. Does this suggest that a woman's sexual power is tantamount to "reverse rape?" Does the discovery of one's sexual power mark a "descent?" Whatever the concept behind freshman director Talia Lugacy's filmm is, it isn't clear and could be debated. Jared is a douche from the beginning, and the elevated dialogue that Chad Faust and Rosario Dawson are forced to utter makes the dynamic even more unrealistic. Faust's performance is bad because he fails to find anything worth liking in Jared, and Dawson's performance is good because despite it all, she finds something that draws her character to him and she can somehow make the bad writing seem natural. Overall, Descent is remarkably disturbing and dark, and that's all it is, a catalog of horrors with no redeeming through-line.
Jim Hunter
Super Reviewer
Plot Spoilers Necessarily Throughout This Review
I saw this movie by accident, thinking I had downloaded "The Descent", the horror movie about creatures attacking a group of cave climbers/campers who are all college age girls. So even through, the first rape scene, I thought, this is just another crappy B horror movie trying to start off by being "edgy", so I kept watching through Dawson's character waking up in the dilapidated drug house, thinking to myself "yeah this is probably just a drama and if it is not, it's a tacky convention to parallel *this* parabolic descent story with some creature-killin-in-caves and her redeeming herself by killing creatures, so she better torture that lil football poofter".
Problem is, I don't think this is that great of a performance from Dawson, just because you do a rape movie doesn't make your career.
And the movie fails on its point, because call me fucked up, but I enjoyed the revenge rape scene. Yup I don't mind some stuck up jock getting his ass split and kind of liking it, so for me that totally washes out the scene of Dawson's character getting raped. Compare this film to "O Fantasma", a real art-house movie that also includes plotted homosexual rape, and you will see that "Descent" cannot compare when it comes to depicting a character sliding into an amoral and degraded existence, which is ultimately the point of this movie, not all the graphic rape bookending the fall, but those are really the only compelling moments, which is never good for a director to say, "well at least it's got good rape scenes". So sadly that means the whole middle of the movie could have been gutted, so next time this director wants to do an effective feature, they may want to consider a rewrite to make sure there is sufficient material to cover it, instead of duping me into watching a piece that is seventy minutes too long. "So Fucked Up" highlight: using a bedpost to get the anal rape started; that I was aroused by the muscley latin guy revenge raping the frat twat
_kelly .King
Super Reviewer
Descent Quotes
There are no approved quotes yet for this movie.