11/8/16
(2017)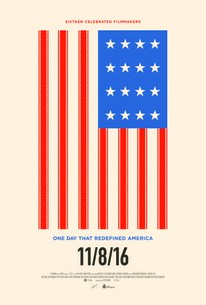 Movie Info
On the morning of Election Day 2016, Americans of all stripes woke up and went about living their radically different lives. These were the hours leading up to Donald Trump's unexpected, earth-shaking victory, but, of course, no one knew that yet. With 11/8/16, producer/creator Jeff Deutchman's second installment in his election film series, viewers are afforded a uniquely cinematic look at the chaotic glory of American democracy from sea to shining sea. Featuring footage captured by a carefully curated group of some of America's finest documentary filmmakers, 11/8/16 follows sixteen subjects spanning the country's geographic, socioeconomic and political divides through the course of that history-altering day. 11/8/16 was an election unlike any other. 11/8/16 brings us back to that day with the immediacy of great nonfiction filmmaking, and shows the vibrant directness how life happens as history is being made.
News & Interviews for 11/8/16
Critic Reviews for 11/8/16
Audience Reviews for 11/8/16
½
A thought-provoking look at the anticipation for the 2016 Presidential Election, 11/8/16 is a pretty solid documentary. While it was clearly meant to celebrate a Hilary victory, given that most of the people that are followed are Hilary supporters (a group of illegal immigrates, a former convict, a union leader, a feminist college student, a black activist, etc.), the filmmakers end up recrafting the film into something quite interesting. The interviews have a nice candid, raw feel; depicting the types of conversations that people were having on the eve of the election. It also does a good job capturing the winds of change as election results came in; with Trump supporters starting to believe in the impossible and Hilary supports being shocked. Additionally, the film refrains from making any political commentary on the election of Trump, but instead lets the people it follows voice the mixed emotions of shock, disappointment, hope, and apathy that were felt by the electorate. Rather than attempt to explain or find meaning in the election, 11/8/16 tries to capture the mood of the voters; the complacency of Hilary supporters, and the pessimism of Trump supporters.
Dann Michalski
Super Reviewer
11/8/16 Quotes
There are no approved quotes yet for this movie.