Smart People
(2008)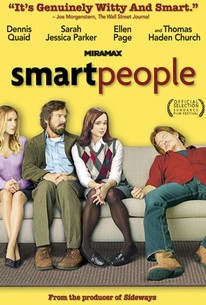 Movie Info
Commercial director Noam Murro makes the leap to feature films with this comedy drama concerning an aging professor-turned-bitter eccentric due to the death of his longtime wife. Ever since his wife passed away, Lawrence Wetherhold (Dennis Quaid) has become overly acerbic and self-absorbed. He's alienated his son (Ashton Holmes) and transformed his daughter (Ellen Page) into a friendless overachiever. Now, at the precise moment Lawrence thought he had finally figured it all out, his life comes crashing down all around him as he falls for a former student (Sarah Jessica Parker) and his shiftless adopted brother (Thomas Haden Church) comes knocking on the door in search of a place to stay. Though Lawrence always relied on his intelligence to get him out of life's little jams in the past, it's going to take quite a bit more than intellectual thinking to move past this sticky stage in his suddenly chaotic life. David Denman and Christine Lahti co-star in this romantic comedy drama, which serves as the screenwriting debut of Goats and Modern Ranch Living author Mark Jude Poirier. ~ Jason Buchanan, Rovi
People Who Like this movie also like
News & Interviews for Smart People
Critic Reviews for Smart People
Audience Reviews for Smart People
[img]http://images.rottentomatoes.com/images/user/icons/icon14.gif[/img]
Directors Cat
Super Reviewer
One of my favorite movies. This film is a refreshing take on the role of smart people in society, taking one broken family trying to rebuild itself after the loss of their mother/wife. Quiad plays an antisocial literature proffesor, whose daugther, played by Ellen Page, is following in his footsteps. Throw in a degenerate uncle and an attractive female counterpoint and this movie is a classic recipe for a decent movie. Funny, sad and eye opening I really do love this movie.
Unknown Hobo
Super Reviewer
We don't really learn how intelligence has hurt the main character, but how emotional stupidity hurts everyone and the characters have to become smarter about it. There is only one character who is chronically afflicted. Dennis Quaid's performance makes the movie, even with one seduction scene that's written out of character. Ellen Page and Thomas Haden Church are meant to score points with their lines Juno-style, and sitcom-style, and they do. The subplot of her lonely infatuation with the adopted uncle goes bumpy as the uncle creates some distance, being a responsible adult, but starts withdrawing in the style of a child. (And more and more, the girl talks to him like she's a manipulative lech.) I don't know if the two characters' attitudes toward achievement and worldly acceptance are meant to average into some vision of real happiness and fulfillment. For some reason, we're supposed to love one loser unconditionally, no matter what he's doing to himself, and the other when she's not being imperious or meddlesome. The heart of this is a feel-good movie selling its affections, which are sincere, inside the packaging of a subgenre: the dry-toned observational suburban bourgeois drama, where characters wear tweed and have great bookshelves but are unable to find love and happiness ... The bright side of every such tragedy is that filmmakers are able to find a group of expensive actors for only 2 million dollars.
Adam Mahler
Super Reviewer
Smart People Quotes
There are no approved quotes yet for this movie.