Ballast
(2008)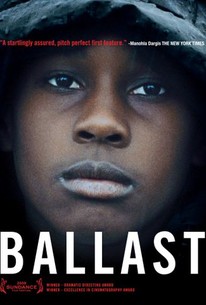 TOMATOMETER
AUDIENCE SCORE
Critic Consensus: A searing debut by director Lance Hammer, this subtle and contemplative Mississippi set drama lingers long after its conclusion.
Movie Info
In the cold, winter light of a rural Mississippi Delta township, a man's suicide radically transforms three character's lives and throws off-balance what has long been a static arrangement among them. Marlee is a single mother struggling to scratch a living for herself and James, her 12-year-old son, who has begun to stumble under drug and violence pressures. So when the opportunity to seek safe harbor at a new home arises, she grabs it, though the property is shared by Lawrence, a man with whom Marlee has feuded bitterly since James's birth. With circumstances thrusting them into proximity, a subtle interdependence and common purpose emerge for Marlee and Lawrence as they navigate grief, test new waters, and tentatively move forward.
News & Interviews for Ballast
Critic Reviews for Ballast
Audience Reviews for Ballast
This movie is from Kino International which carries the best in world cinema. Its also a winner of the 2008 Sundance Film Festival. As with most Films from Kino International this film is a little different from most, if your idea of a good movie is Batman, Superman, Talladega Nights or something else common to American movie theaters then you will not enjoy this movie, but if your a fan of something a little less common and different then you will enjoy this one as I did. This is about 3 lost souls in the Mississippi Delta who come together through a suicide. Worth every bit of 4 stars
Bruce Bruce
Super Reviewer
½
I liked the film a lot, but felt that there was something missing. So many things happen in the first half of the film that it;s a little jarring. As you keep watching, you understand why all those things happened, but the film moves at a much, slower pace. That was the thing that I liked about the film the most. It reverses the usual everything is good until the end where everything suddenly becomes terrible indie film plot and turns it on it's head. I will say that the actors (except for the mother character) are sub par, but it's understandable and it doesn't take anything away from the movie. The film looks gorgeous and I liked the ending, but I might have been expecting something different. Great use of Mississippi landscapes.
½
[size=3]"Ballast," the stunning and beautifully titled debut film from writer/ director [b]Lance Hammer[/b], attracted a lot of attention at this year's Sundance Film Festival. Thank heavens for Sundance. Without it, American films like this would never get seen. "Ballast" is a tour de force of hand-made, independent filmmaking. If it had more dramatic tension in its plot, it would be close to a masterpiece.[/size] [size=3][img]http://www.indiewire.com/movies/ballast_iw.jpg[/img][/size] [size=3]At the 2008 festival, "Ballast" won much-deserved Directing and Cinematography awards. It was nominated for Best Feature but lost (no doubt narrowly) to Courtney Hunt's "Frozen River," which was released commercially earlier this year. The two films have a lot in common. Both are from first-time directors, both are set in rural America and focus on lower-class characters, and both have a deeply authentic, gritty aesthetic that makes the films seem almost like documentaries. [/size] [size=3]The gritty aesthetic includes having so much texture that you can almost [i]smell[/i] the landscapes that form backdrops for the stories. Each film has an extraordinarily tangible sense of place. It's rare for first-time directors to demonstrate such command of the cinematic medium. Hopefully Hammer and Hunt will be making films for decades to come.[/size] [size=3]In "Ballast," Hammer shows himself to be a master at capturing rural poverty. He also displays a real gift for working with non-professional actors. Especially remarkable is the performance he got out of a teenager named [b]JimMyron Ross[/b], who portrays a boy teetering on the edge of an abyss. Almost as remarkable is [b]Michael Smith[/b] as the boy's depressed but loving uncle. [/size] [size=3]Ross and Smith appear to be non-professionals, while [b]Tarra Riggs[/b], playing the boy's mother, has other screen credits and appears to be classically trained. Oddly enough, it was she who gave the weaker performance. As is so often the case, non-professionals with magical innate skills bring an authenticity to the screen that the vast majority of trained actors simply have lost. Riggs was more than competent as the mother, but Ross and Smith gave me chills.[/size] [img]http://www.melbournefilmfestival.com.au/filmimages/9246/medium/9246_ballast.jpg[/img] [size=3]The film opens with a catatonic man (Smith) sitting in his living room. Down the hall is a corpse. A neighbor, sensing something amiss, enters the home uninvited and finds the body. Five minutes later, there is a suicide attempt. Talk about a heavy opening sequence. Clearly we are meeting a very troubled family. [/size] [size=3]Gradually we learn about the man who died, and we watch his family deal with the loss. The film is mostly concerned with the processes whereby survivors attempt to put their lives back together after a tragedy, with the aggravating circumstances of grinding poverty, low education, drugs and depression. "Ballast" is the first film I've seen take on the epidemic of male depression in America, and it does it in a pitch-perfect way. It also beautifully captures the loneliness of adolescents and the unique way they tend to communicate in actions instead of words. [/size] [size=3]Perhaps the most unforgettable scene in "Ballast" involves the teenager intervening when he suspects that another suicide attempt is on the horizon. He lays the adults low without ever opening his mouth or overtly indicating that he cares about anyone. The depth of his silent caring is so profound it will break your heart. [/size] [size=3]What is striking about Hammer's approach is that he can convey avalanches of emotion with almost no dialogue. This is one of the quietest films you'll ever see. Hammer and director of photography [b]Lol Crawley[/b] film the actors silently in a way that says it all. "Ballast" has some of the most impressive cinematography I've seen this decade.[/size] [size=3]The film also is distinctive in its rejection of music. I don't believe there's a single moment in "Ballast" where music is used. This ultra-stark approach heightens the realism because no one in real life hears music swell up in the background when they feel something. The audience hears the silence around the characters as the characters themselves hear it. The lack of music especially hit me at the end. When a film is over, music always surges up to accompany the closing credits. Not so in this case. Rather awkwardly, my audience shuffled out of the theater in complete silence. I can't say that I loved this ultra-spartan approach, but I appreciated the chance to have an unusual cinematic experience. I consider it a courageous directorial move.[/size] [size=3]The only downside to "Ballast" is that its quiet depiction of ordinary people doing ordinary things occasionally is tedious, especially in the second half. Depicting the boredom of everyday life is challenging. At times it's gripping because something poetic is captured in the realism. You see glimmers of someone's soul when watching him or her do ordinary things. But after a while, the charm wears off. In the second half of the film, this started to happen. It picks back up at the end, but the slack period was a bit too long.[/size] [size=3]Also the central plot was not quite intense enough. If an extra story element had been added, the script would have come alive more. There was simply a bit too little going on in the story. That's why I had to bring down the film's rating from 8 to 7. But there is so much that is great about "Ballast" that it comes highly recommended. While imperfect, it is still one of the most important and enriching films of the year, and Hammer's debut as a filmmaker is a major event.[/size]
William Dunmyer
Super Reviewer
Ballast Quotes
There are no approved quotes yet for this movie.