Homecoming
(2009)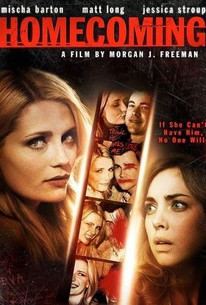 Movie Info
A former small-town golden boy returns to his hometown with his new girlfriend, only to find that his onetime high-school sweetheart isn't willing to let go of the past. In the working-class town where Mike (Matt Long) grew up, football is everything. A few months after leaving for Northwestern University on a scholarship, Mike arrives back home for Christmas break with his pretty new girlfriend, Elizabeth (Jessica Stroup), in tow. Seeing Mike with another woman comes a quite a shock to the people around town; back in high school Mike and his girlfriend Shelby (Mischa Barton) were a fairly hot item, but while Mike has moved on, Shelby has not. The former homecoming queen would like nothing more than to remove Elizabeth from the picture -- permanently -- and when a freak car accident leaves Mike's new girlfriend at the mercy of his bitter ex, Shelby prepares to do whatever it takes to win her old boyfriend back once and for all.
People Who Like this movie also like
News & Interviews for Homecoming
Critic Reviews for Homecoming
Audience Reviews for Homecoming
Decent. Barton was better in this than she was in the O.C. Pretty predictable, and funny that the director is the same one that directs the TV show Teen Mom.
Erin Collins
Super Reviewer
This movie wasn't too bad...mental glimpses of "Misery" and "Fatal Attraction" gives you this fairly good teen gone to college from former small town...and comes back home to visit...with complications from and old flame which includes his new main squeeze...see this it was interesting.
Fascade Fiveoneeight
Super Reviewer
After watching Homecoming, I found it a weak mix between Fatal Attraction and Misery.The plot was nothing new we had seen before, a scholarship was given to Mike, a role for Matt Long, so he came back for Christmas and brought his new girlfriend, Elizabeth. But Mike's ex girlfriend Shelby, great performance by Misha Barton, in a bad role, she was not happy to see him back with a girlfriend and wanted Elizabeth out of the picture.She hit Elizabeth with her car and left her injured, so she took her in her house to take care of her but as a prisoner.So she could do everything to get Mike back.The ending could have been better. Elizabeth was rescued by Mike. and hit Shelby several times with a helmet, still it appeared she will woke up in the end.So there might be a sequel for this crap? So much in this movie was never clearly explained.
Daisy Maduro
Super Reviewer
Homecoming Quotes
There are no approved quotes yet for this movie.