No Impact Man: The Documentary
(2009)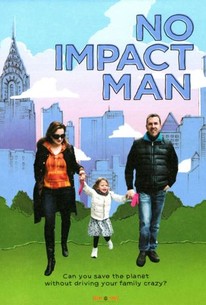 TOMATOMETER
AUDIENCE SCORE
Critic Consensus: Half enviro-saving doc, half publicity stunt, No Impact Man is inspiring and fun to both casual activists and hardcore recyclers.
No Impact Man: The Documentary Photos
Movie Info
"No Impact Man" follows the Beaven family as they abandon their high consumption Fifth Avenue lifestyle in an attempt to make a no-net environmental impact for the course of one year.
News & Interviews for No Impact Man: The Documentary
Critic Reviews for No Impact Man: The Documentary
Audience Reviews for No Impact Man: The Documentary
A man lives for one year without affecting the environment, which means he uses no electricity, eats only locally produced food, composts all his waste, and wipes his ass with a dishrag. I think the main character of this documentary is not "no impact man" but his unfortunate wife. There are several scenes near the beginning during which it seems as though she's being coerced into doing this "project." I frequently thought, "If by the end of this she converts to his way of thinking, I'm going to accuse this film of Stockholm Syndrome. So, Stockholm Syndrome is the unintentional subject of this documentary. That last sentence is half-joking. Michelle seems critical and selective in her conversion. Colin Beevan occasionally seems like a blow hard mouthpiece, but these scenes are counter-balanced by some moments of sincerity. Other critics have accused Beevan of performing a mere publicity stunt, but isn't it a stunt only if he uses a hair dryer on the weekends? I think you could criticize him for waiting six months to turn off the lights, point out that he doesn't have a clever way to prevent waste water, or accuse him of insensitivity when he powers his laptop to write his blog with donated solar panels but doesn't let his wife use the juice for the refrigerator. But I don't see anything dishonest about Beevan. He is well-meaning and idealistic, and those are necessarily bad things. Overall, I don't think No Impact Man will do anything to change your life (or mine), but Beevan's question of what could we live without is certainly food for thought.
Jim Hunter
Super Reviewer
Quite honestly, the first thing that struck about Beavan's work, both tthe book and film, was 'why haven't I heard anything about this?' It is absolutely fascinating. Personally, I've already bought into the whole "green" movement, but it's really only after watching something like this that you realize the full extend of what you can cut out. Better still, it kind of causes you to think about what things you would and would not be willing to cut. I don't think anyone's defending consumer culture, but through laziness, ignorance, or lack of ambition, it's something we've all bought into. It's our entire culture really. I loved Michelle's observation that American roads and public places are created for SUV's, not people. We are all so completely indoctrinated into this way of life that to do otherwise seems revolutionary. Also, the Beavan's are incredibly likable. At times the film seems a bit stages, but they are not self-righteous are overall, they come across as decent people; they are not an unpleasant bunch to spend ninty minutes with.
½
Opened my eyes to quite a bit. I don't think I would go to the extremes that this family did, but I know there are a few things that I could change in my daily habits. I think it would be good for everyone to give this type of living a shot so that everyone can see just what they can do to help the environment.
Leigh Ryan
Super Reviewer
No Impact Man: The Documentary Quotes
There are no approved quotes yet for this movie.