Anonyma - Eine Frau in Berlin (A Woman in Berlin)
(2009)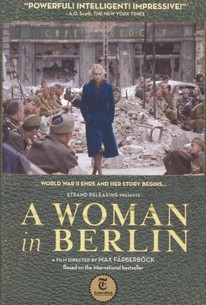 Anonyma - Eine Frau in Berlin (A Woman in Berlin) Photos
Movie Info
The horrors and moral compromises of war set the stage for this harrowing drama from director Max Färberböck, based on a true story. An anonymous female reporter (Nina Hoss) is living in Berlin in the spring of 1945; most of the city has been reduced to rubble by bombing, the German army has been decimated, and most of those left behind are expecting the arrival of Russian troops and fearful of what awaits them. The reporter is one of a number of women who are hiding wherever they can in the city, expecting that they will be raped and brutalized by the Russians. It doesn't take long for their worst fears to be realized as the emotionally ravaged Russian soldiers take out their anger and frustration on their new captives. But the reporter, who can speak Russian, is determined not to allow herself to be violated by the soldiers, and she decides to curry favor with a Soviet officer who will then protect her from his underlings. The reporter's plan works as she becomes the lover of Major Andrej (Yevgeni Sidikhin), an officer with decidedly mixed feelings about his work. But as the reporter trades consensual sex for the safety Andrej can give her, both are aware who is the victor and who is a captive, and elsewhere in Berlin both German survivors and the soldiers occupying Berlin show the scars of war as they bring out the worst in one another. Anonyma -- Eine Frau in Berlin (aka A Woman in Berlin) received its world premiere at the 2009 Berlin International Film Festival.
Critic Reviews for Anonyma - Eine Frau in Berlin (A Woman in Berlin)
Audience Reviews for Anonyma - Eine Frau in Berlin (A Woman in Berlin)
½
What a well done movie! This is a side of war that I never realized existed. I really do love movies based around Nazi Germany, and I am finding that there are many more that I havent seen via the foreign film genre.
Cynthia S.
Super Reviewer
With the recent success of The Reade, the notion of a German woman receiving empathy from an audience is kind of the hot issue. Especially if that German woman is portrayed to be, or have been, a Nazi sympathizer. Well, enter A Woman in Berlin. In this real-life story (inspired by the anonymous writings of a journalist woman who lived in the conquered city of Belin during the final stages of the war,) is a true work of art and storytelling. It's inspired and striking all at once. No screenwriter, however clever or prominent, could have ever been able to come up with a story so divisive and emotionally manipulative. No, only real life could have concocted such a miserably cold and true depiction of event rarely portrayed in film. Our anonymous woman takes us on a journey through her world, and the world of those remaining in Berlin during the end of Hitler's Germany. In essence, we see that the remaining civilians (comprised primarily of seniors, young children and the so-called "weaker" sex) were victimized brutally by the invading (or should it read: liberating) forces of the Red Army (Russia.) Furthermore, it is with brilliant efficacy that our anonymous writer conveys that is was these women who were the remaining soldier's on the front lines of Germany's scarred urban battlefields. We meet our protagonist in an era before the height of war. We meet her in a time in history where we may presume her to be a sympathizer of hate and prejudice. She is vibrant and idealistic about the future of her country, blindly subscribing to manipulative ideas and philosophies that were shrouded in a blanket of national pride. Flash forward to a time where misery prevails and the tables are turned. Many themes are evident in this film and is reveals and unravels itself slowly, yet efficiently -- like the speed at which a woman sheepishly undresses for her male predator moments before her body's inevitable ravaging. Obviously, the plight of women is magnificently portrayed in this film. More specifically: the dismal day-to-day living of the German women who were to be punished for the wrong-doings of their country's leaders, none of whom they'd ever met. Defenseless and battered, the women must fend for themselves as their remaining men find themselves spirited away to Siberia or worse for the crimes that their father have committed. It is with great success that other shades are painted around what is considered to be right and wrong in times of war. The are a myriad moral subtexts to be gathered. Namely, who is the liberator and what does liberating mean? How do you avoid succumbing to the thirst with which revenge nags? What lines must be crossed or avoided in order to keep yourself from becoming the very essence of the hate you've hoped to extinguish? Ultimately, as we learn from our anonymous heroine, such judgments are irrelevant when your only goal in life is to remain attached to life itself. Your perception of the world and its concepts can never remain in your mind unscathed or unblemished. That way of seeing the world will always be altered and affected by the events that transpire in it. Therefore, the way you love; the way you fight; the way you live will never be the same again.
Rico Zamora
Super Reviewer
"A Woman in Berlin," written and directed by Max Farberbock and starring the great Nina Hoss, is a treasure. Most immediately it is about the epidemic of rape that the women of Berlin suffered at the hands of the invading Soviet Army in 1945. But it also opens up to become an infinitely complex meditation on warfare and the unique feelings of excitement and dread that accompany the downfall of one world and its replacement by another. It also nobly tries to reckon with the particular rivalry and comradeship that for centuries has marked the collisions of German-speaking and Russian-speaking Europeans. Bravo to Herr Farberbock, an artist of singular courage. --unfinished--
William Dunmyer
Super Reviewer
Anonyma - Eine Frau in Berlin (A Woman in Berlin) Quotes
There are no approved quotes yet for this movie.