Ink
(2009)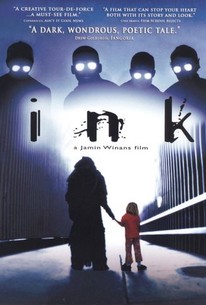 Movie Info
A father and daughter are drawn into a surreal dream world where the forces of light and darkness wage a constant battle for the minds of mankind. When darkness falls and we close our eyes, benevolent forces seek to instill us with courage and strength through sweet dreams. Meanwhile, other, more malevolent beings curse us with nightmares that fill our minds with desperation and despair. When an innocent little girl is spirited away to a phantasmagorical world of dreams by mysterious creatures known as Ink, her father must find a means of rescuing her and preventing the metaphysical war between these two powerful forces from bleeding into our reality.
Audience Reviews for Ink
½
Ink is a spectacular little low-budget film. At night, as we sleep, two groups of different warriors battle over our souls. There are the Storytellers that give us dreams, and the Incubi that give us nightmares. There are also drifters, that are kind of trapped between worlds. One of these drifters, Ink, kidnaps a young girl and it is up to the storytellers to rescue her. WHat I loved about this film is that you can see the passion and hardwork that has gone into it. It doesn't allow for its budget to become a limitation. The film also uses simple but very effective effects. There is a fight scene early on where things get smashed up but then magically put themselves back together again. It is probably just footage in reverse, but it works a charm. The designs of the characters are also very original, at least for this kind of story. The film is one you have to stick with, as it reveals its intentions and story over time. Some scenes seem completely unrelated which can cause the film to drag in the middle, but stick with it because the emotional ending is very powerful. Lower your expectations in terms of lighting, acting, and fight choreography, and you should find a lot to love in this little film that refuses to be held back.
Luke Baldock
Super Reviewer
½
An impressively well made low budget adult fairy tale boasting some intriguing and original ideas.
A.D. Villarreal
Super Reviewer
An admirable project that oozes passion from every pore, but there doesn't seem to be much innovation behind it. What will stick with me from Ink is nothing about the film itself, between its passable acting, hokey plot and serviceable special effects (though surely commendable when budget is taken into consideration); instead, I'll remember the obvious devotion the creative talent breathed into it. For a 250000 dollar film with no big names attached to it, it's garnered some pretty significant attention, but ultimately you can't help but grade on a curve, and Ink really only has merits because of its lack of pedigree. I can only hope that Jamin Winans catches the eye of some daring studio higher-up, because Ink leaves you the impression that he's a man of his craft working with unremarkable tools.
Drew Smith
Super Reviewer
Ink Quotes
| | |
| --- | --- |
| Emma: | I am ruined... why can't you see that? Leiv: Because I choose to see you for what you were intended to be, not for what you've become... |
| | |
| --- | --- |
| John: | Her life means nothing. I believe it means something to her. |
| John: | Her life means nothing. |
| | |
| --- | --- |
| Emma: | When I die, will I be a storyteller like you? |