Blind Date
(2009)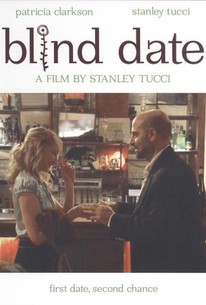 TOMATOMETER
AUDIENCE SCORE
Critic Consensus: Despite the chemistry of stars Patricia Clarkson and Stanely Tucci, Blind Date's stagey direction and underdeveloped story make it feel more like a rehearsal than a performance.
Movie Info
A married couple deal with a crushing loss in a way that's both funny and deeply sad in this comedy-drama from director, screenwriter and star Stanley Tucci. Don (Tucci) and his wife Janna (Patricia Clarkson) meet every night in the same shabby nightclub where Don performs a humorously shambolic magic act. Don and Janna's relationship has been on the verge of collapse since the death of their daughter, and they're trying to reconnect with each other through role playing, so each evening they pretend they're meeting for the first time on a blind date after discovering one another through personal ads. Sometimes they assume characters that are openly confrontational, while other times they try to bring a sweetness and intimacy back into their lives, but more often than not their struggle to reclaim the love they knew ends in confusion and frustration. Blind Date was adapted by Tucci and screenwriter David Schechter from Theo Van Gogh's 1996 film of the same name; it was the second in a series of remakes of Van Gogh's films (following Steve Buscemi's Interview) created in response to Van Gogh's assassination by political extremists in 2004.
News & Interviews for Blind Date
Critic Reviews for Blind Date
Audience Reviews for Blind Date
½
Tucci (as director and actor) and Clarkson endeavor mightily to invigorate this woebegone tale of lost and regret, theatrically done mainly in one locale (a tavern). A married couple pretends not to know one another in order to meet afresh time after time, an effort to jump start their desperately failing marriage, but between the art and artifice you get confused, get lost, and you will too, despite the competent work (always) of the leads.
Kevin M. Williams
Super Reviewer
Blind Date runs for under 90 minutes, but it feels much, much longer. Excruciatingly longer, to be precise. Nothing about the film-none of the role play scenarios, not the "beat it over your head" voice over by a child or the finale-rings true. Instead of being concerned with the two main characters, I found myself wondering who the people were populating the small bar...or where the bar was actually located...or why these two weren't seeing a professional counselor. In other words, I was thinking about anything to keep my mind active through each date since the movie is devoid of any oomph. We're not even given a reason to root for these people. There's no intrigue, no depth, no true characterization; everything we "know" about these people is false since they're playing other people. If the purpose is to lull the audience to sleep and test their willpower, Blind Date succeeds. In every other way, it can't help but fail.
Jason Vargo
Super Reviewer
Patricia Clarkson and Stanley Tucci(who also directed) prove with the melancholic and episodic chamber piece "Blind Date" that they can almost make anything work. Tucci plays Don, who we are told by a narrator(Sarah Hyland) is a magician who works awfully hard at not being very good. As a way to invigorate their crumbling marriage, he and his wife Janna(Clarkson) play a series of games, pretending they are on a blind date, trying to return to a point in their relationship when their love for each other was at its peak. They are also trying to forget(what exactly is revealed about halfway through the movie and in the trailer) which a lot of people try to do when they watch something or someone that they hope will make them laugh. But to paraphrase Watchmen #1, what happens when the jester can no longer laugh himself?
Blind Date Quotes
There are no approved quotes yet for this movie.