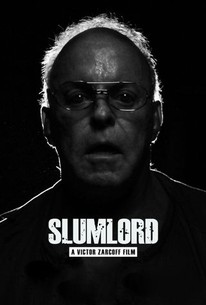 Slumlord
2015, Horror/Mystery & thriller, 1h 27m
13 Reviews
500+ Ratings
Where to watch
Rent/buy
Rent/buy
Rent/buy
Rate And Review
Movie Info
A newlywed couple have no idea their grim, lascivious landlord has been spying on them since they moved in.
News & Interviews for Slumlord
Audience Reviews for Slumlord
I've said this before and I will say it again, horror movies, and not that this was an out and out horror film, that work best are those that have more realistic elements. Something that people can actually believe might happen to them. And with the times we live in, where everyone has a smartphone, all with built-in cameras that could probably be hacked into by perverts to spy on others, then this really makes this movie a very timely one. Like I said though, this isn't really a horror movie, it's more of a suspense-thriller with slight horror elements. Having said that, however, I don't think this movie has enough interesting material to make a good movie. So, essentially, the movie sees a married couple, who are expecting a child, move into this new house. Their marriage is struggling as a result of Claire's pregnancy and her not being as...affectionate as she used to before her pregnancy. This leads Ryan to pursue an affair with one his assistants at his job. Of course, while all of this is going on, unbeknownst to them, their landlord has placed 13 cameras, hence the title, and is spying on their every move. It's not that he's just spying on them, but he's clearly planning something for the couple. Those parts of it worked because, again, it's something that people can actually buy into, especially in the day and age of many smartphone apps having access to your camera, address book, etc. The parts of it that didn't work, however, is the marital stuff between Claire and Ryan. I realize they needed to have something for them to do and marital strife is just as well, like they couldn't figure out that their house had been bugged with cameras from the start, but the marital issues between Claire and Ryan just aren't that interesting to me. I don't really care that much to be honest and it doesn't really make me care that much about either of the characters, particularly Ryan, who comes across as kind of a major dick for having an affair just because she hasn't been as attentive as normal due to her PREGNANCY. So, you know, she's probably got more important things to worry about. It'd be another thing entirely if she was purposely being non-attentive, but she's not. And Claire doesn't really have much of a personality that you really care for her one way or the other. I guess they think the idea of her being pregnant is gonna be enough for people, but I just didn't care. Like if something happened to her, not saying if it did to avoid spoiling things, I wouldn't have cared, straight up. They should've spent more time developing her as a character instead of being just a one-note character, the pregnant lady who's being cheated on. I'm not gonna say that these marital issues aren't essential to where the film is going, because it's all needed for where they want to go. I'm just saying that it's still not that interesting. But, moving on to some of the other positives. And that is Neville Archambault, who plays the landlord, is pretty damn great in his role. And he's not great because he's a talented actor, though he was pretty good here, but his appearance is perfect for this role. Neville has a great look already in and of itself, but in this movie, it's pushed to the extreme. He looks, and carries himself, like the most disgusting and creepiest human being you will ever meet. He's really the reason the movie gets the rating it does, just because of his presence. He's a person that you look at and instantly think that he's probably the result of in-breeding and he has probably killed his entire family. Nobody might not ever say that, but that's how he comes across, so, yea, I thought Neville made a great villain in this movie. The movie isn't bad at all, but the stuff not related to Neville's character is kind of lackluster and the third act is good, so that helps as well. Everything regarding Claire and Ryan's marriage is lame, so avoid that. Average movie, at best, and it's on Netflix so if you have nothing else to watch, then this would be a suitable choice.
See Details