13 Going on 30
(2004)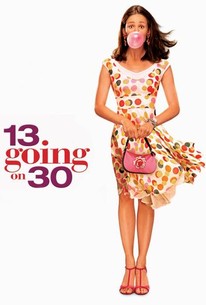 Movie Info
Thirteen-year-old Jenna (Shana Dowdeswell) has had enough with the trials of adolescence. In addition to being saddled with a devoted-but-nerdy best friend, Matt (Sean Marquette), she falls victim to one of the dangers of playing Seven Minutes in Heaven with the coolest kids in school: being stranded without a willing make-out partner. Humiliated, Jenna buries herself in the aforementioned make-out closet, wishing she could skip the whole adolescence bit and move straight into adulthood, and miraculously wakes up just weeks away from her 30th birthday. Of course, a lot has changed since going to bed the night before, not the least of which being an impressive set of womanly curves. The new, older Jenna (Jennifer Garner) is a successful magazine editor with friends in high places and a lion's share of potential suitors -- including a hockey-playing boyfriend and a swarthy married man. The problem is that her mind hasn't matured with her body; Jenna not only finds living on her own more terrifying than cool, but is quick to dismiss any male over the age of 14 as "gross." Half excited, half mortified, Jenna seeks out Matt (Mark Ruffalo), whom she learns she had spurned as a teenager in an effort to join the popular crowd. Gary Winick directed the film, from a script by Josh Goldsmith and Cathy Yuspa; Gina Matthews produced. Choreographer Michael Peters -- who died in 1994 -- received posthumous credit, as his choreography from the Michael Jackson Thriller video is used in one scene. ~ Tracie Cooper, Rovi
People Who Like this movie also like
News & Interviews for 13 Going on 30
Critic Reviews for 13 Going on 30
Audience Reviews for 13 Going on 30
Just one of those delightful wish-fulfillment fantasies that you gotta watch when it comes on TBS. The "Big" concept + time travel is much more palatable, with Jenna already having a real adult life, rife with sordid history that she must "A Christmas Carol" her way out of. Jennifer Garner and Mark Ruffalo are both so sweet and adorkable that you'll want to smash all the dollhouses.
Alice Shen
Super Reviewer
...going on zero. I don't know whether it's more annoying watching a rom-com featuring an an immature main character with attention deficit, or suffering through a preposterous premise that no one even tries to explain. Garner was grating; Ruffalo was almost a prop. There's just not much to like unless you regularly fantasize about falling in love with someone unstable.
Christian C
Super Reviewer
Love this movie. Actually think I enjoy it more everytime I see it. Has a bit of everything in it. 80's flashbacks, and just a really sweet little story.
Nicki Marie
Super Reviewer
13 Going on 30 Quotes
| | |
| --- | --- |
| Richard Kneeland: | Jenna, my balls - Excuse my French - are in an iron vice. Corporates are twisting and squeezing like a bunch of dominatrixes on steroids, and now Lucy is presenting her own re-design without you. Could you tell me what is going on? |
| Jenna Rink: | What is going on is that you are going to have more choices. |
| Richard Kneeland: | With all due respect to Lucy, I'm far more anxious to know what you've been working on. |
| Jenna Rink: | Thank you. |
| Richard Kneeland: | I'm not trying to compliment you. I'm trying to pressure you. |
| Jenna Rink: | How long until your balls get totally squished? |
| Richard Kneeland: | Hopefully never, I'm rather attached to my balls. |
| Jenna Rink: | Can they hang in there til five? |
| | |
| --- | --- |
| Jenna Rink: | I love you, Matt. You're my best friend. |
| Matt Flamhaff: | I love you too, Jenna... I've always loved you. |
Discussion Forum
Discuss 13 Going on 30 on our Movie forum!