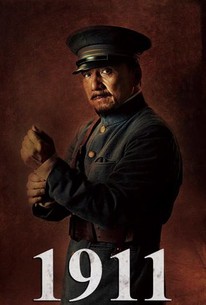 1911
2011, History/Drama, 2h 5m
24 Reviews
1,000+ Ratings
Where to watch
Rent/buy
Rent/buy
Rent/buy
Rate And Review
Movie Info
Having studied the art of modern warfare in Japan, China's Huang Xing (Jackie Chan) becomes one of the leaders in his country's revolt against the Qing Dynasty.
News & Interviews for 1911
Audience Reviews for 1911
Jackie Chan presents 1911, a gripping historical drama that explores an interesting chapter in world history. At the turn of the century China stands on the brink of revolution, as nationalist rebels work to overthrow the Qing Dynasty and establish a Republic. Jackie Chan, Winston Chao, and Lee Bing Bing all give good performances and create compelling characters. However, there are a few problems with the storytelling and with the transitions between the various character stories. But overall, 1911 is a solid, gritty war drama with a riveting story.

Even though this was advertised as Jackie Chan 100th film, it's a movie truly unworthy to be called that. With Jackie Chan changing the world of Martial Art movie for the better, who the hell thought it was a good idea not have Jackie Chan as the main star or director of his own monumental film and direct a film on the 100th anniversary of Chinese Revolution. 1911 is a historical drama based on the founding of the Republic of China when nationalist forces led by Sun Yat-sen who overthrew the Qing Dynasty. Now while watching this movie I never felt like I was watching a movie, it felt more reading a textbook because at random I would get barely readable text that would tell me what's going on. With the bad direction of this movie I'm not surprised and neither would you. The story could have been better and they could done something with some of the more sensitive issues going on around this time instead of avoiding them. What you get here is slightly above average story that should have been better. It really does not try too hard keep your attention and you'll likely fall asleep watching it like my girlfriend did. What the movie does well works, like the battle sequences are the high point of the movie. Now while there're not anything impressive, they make the movie a little bit more bearable to watch. The sets are fantastic, the costumes look convincing, and the actors all do a great job in there roles despite the boring script and often times uninteresting characters. One thing I will hit on is that the editing is bad as we get rapid fast cuts that don't work and some continuity error. I would be done at this point, but it's called Jackie Chan 100th movie and I want address a little more issues before any fan of Jackie Chan decides to watch this. He's not the star, he's in 1/3 of the movie and most of the time he's on screen he's just in action mode. Don't expect any humor from him either, don't blame him, blame the idiots who made the decisions not have him in the leading role or behind the direction chair. Does Jackie Chan fight at all in this movie, he does, but only briefly and the way it filmed doesn't properly do it justice. Also, if you're planning on seeing more of Chan dramatic performance, to bad for you because the subtitles are barely readable and your best chance is to watch the dubbed version, which is really disappointing for any fan. 1911 has great production value and good actors, it's just the technical part and the story of the movie that really brings it down. As a fan of Jackie Chan I have to say his 100th film brings us nothing we ever wanted from a Jackie Chan movie.

Co-directed by and featuring Jackie Chan (in what was apparently his 100th film), this is a sweeping historical epic about the 1911 Revolution, released during the event's centennial anniversary. In the early 20th Century, China was in a state of turmoil. There's all kinds of poverty, social unrest, and recent reforms that were designed to help, have instead made matter worse. The ruling Qing Dynasty, at that time led by a 7 year-old emperor and his ruthless mother, are greatly out of touch. The power of this dynasty had been unquestioned for about 250 years, but right around the end of the first decade of the 20th Century, the tide began to turn, and a revolution to overthrow the old regime began to rise. And this is the story of that revolution. The basic leader of the revolution is Huang Xing (Jackie Chan). He returns to China after spending time in Japan studying modern warfare. And, after seeing the sorry state his country is in, he feels no choice but to revolt, using his newly acquired skills and knowledge. I really wanted to like this. It looked immense and epic and thrilling, and I'm almost always down for a historical drama. The film is supposed to have a run time of 125 minutes. For whatever reason, the version I saw was only 99 minutes. There's some deleted scenes on the DVD that would help beef up the run time, but even then, I feel like there's a lot missing. And for what is supposed to be an epic, it feels like anything but. It feels rushed, and that's not good for a film about a complex and important event. Some context is given for the big players, major events, and all that, but all of the title cards are written in extremely tiny font, and flash by the screen all too quickly. Another bad sign. The film is apparently relatively faithful to the actual events in terms of portraying how it all went down, and the period details are quite nice. The film was given support by the Chinese government, but at the same time, the film cuts out some of the more sensitive and less flattering material that led to the revolution. What I'm trying to say is that this is a condensed, neutered, half-assed film that is worse than it should be. Like I said though, the period details, sets, costumes, etc. look great, and there are some decently done action scenes with good effects. It just makes me mad that you need a lot of prior knowledge (and/or excellent vision) to really figure out and appreciate what is going on here. Chan downplays his usual shtick, and the results are pretty strong. Joan Chen is also decent as the Empress Dowager. Everyone else though just kinda exists and does only as much as they're required. It also doesn't help that I struggled to care or get invested. All in all, I'm unfortunately not impressed. This was a real let down. It has it's moments, but they're too few and far between for me to give this a higher rating.
See Details