21 Jump Street
(2012)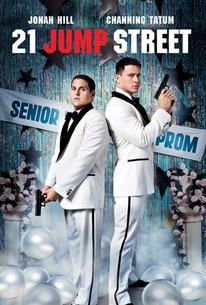 TOMATOMETER
AUDIENCE SCORE
Critic Consensus: A smart, affectionate satire of '80s nostalgia and teen movie tropes, 21 Jump Street offers rowdy mainstream comedy with a surprisingly satisfying bite.
Movie Info
In the action-comedy 21 Jump Street, Schmidt (Jonah Hill) and Jenko (Channing Tatum) are more than ready to leave their adolescent problems behind. Joining the police force and the secret Jump Street unit, they use their youthful appearances to go undercover in a local high school. As they trade in their guns and badges for backpacks, Schmidt and Jenko risk their lives to investigate a violent and dangerous drug ring. But they find that high school is nothing like they left it just a few years earlier - and neither expects that they will have to confront the terror and anxiety of being a teenager again and all the issues they thought they had left behind. -- (C) Sony Pictures
Rating:
R (for crude and sexual content, pervasive language, drug material, teen drinking and some violence)
Genre:
,
Directed By:
Written By:
In Theaters:
On DVD:
Box Office:
$134,000,000.00
Runtime:
Studio:
News & Interviews for 21 Jump Street
Critic Reviews for 21 Jump Street
Audience Reviews for 21 Jump Street
21 Jump Street was an unexpected surprise. It's the funniest film of 2012 and amidst all the laughs manages to accurately portray the modern day high school. While the script is smart and the self-referential jokes are welcome, the movie belongs to its stars Jonah Hill and Channing Tatum. They are a great comedy duo. This movie alone made me a fan of Tatum.
Edward Boxler
Super Reviewer
More of the same. A 100 min. (approx.) journey that wasn't jumpy enough to enjoy the ride. Besides, the casting disappointed big time.
familiar stranger
Super Reviewer
"21 Jump Street" may seem like a pointless reboot/remake of the classic Johnny Depp television show, and it pretty much is, but the thing that makes this film so great is the fact that it acknowledges that it is unoriginal and comes up with jokes that are actually funny! Something that has been missing from many comedies lately. The subtle points the film makes about being a film are hilarious, the chemistry between Channing Tatum and Jonah Hill is arousing (watch the movie to see what I mean), and the directing is fantastic. The pace of this movie could not have been any better. Also, I welcome with open arms, James Franco's brother Dave, who, in his very first film role is great, even though some of his characters dialogue is a bit over-the-top. This is a film that should have been a disaster, but turned out to be a laugh-out-loud genius comedy. There are also some cameo's and some hidden background elements that pretty much trash the fact that films have too much product placement. Even though some parts go a little too far, and there are a lot, and I mean a lot of dick jokes, "21 Jump Street" is the best comedy of the year so far, and overall probably one of my favourite comedies.
21 Jump Street Quotes
| | |
| --- | --- |
| Captain Dickson: | Rule number 2 on Jump Street. Burns. |
| Burns: | Do not have sexual relations with students or teachers, sir. |
| Captain Dickson: | You hear that? That's you. Don't do it man. Keep that dirty dick in your pants. Don't fuck no students. Don't fuck no teachers. |
| Schmidt: | Sir, I know we come off as a couple of lady killers, but i promise you we'll be super professional at the job. |
| Captain Dickson: | Clearly I wasn't talking to you big titties. You cherub-looking mother fucker. |
| | |
| --- | --- |
| Annie Schmidt: | I love dick? You think that's funny? Wonder Years douche? What kind of a sick animal draws an ejaculating penis into an eight year old's mouth? |
| Jenko: | Kind of looks like...an airplane...throwing up. |
| Annie Schmidt: | You think I don't know that's a dick and balls? I know all about dick and balls! I used to party with Robert Downey Jr. before he got sober when he was really fucked up and a lot of fun! |
| | |
| --- | --- |
| Jenko: | I didn't punch him because he was gay. I punched him...and then he happened to turn out to be gay afterwards. |
| | |
| --- | --- |
| Deputy Chief Hardy: | You going anywhere Schmidt? We've got time. |