28 Up
(1985)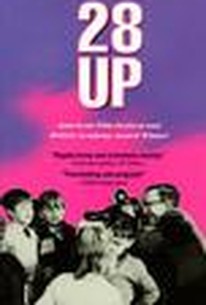 Movie Info
While working on the BBC television documentary series The World in Action in 1963, director Michael Apted, in collaboration with Paul Almond, produced a feature-length study of 14 seven-year-old Britons. Titled 7 Up, the film drew its on-camera personnel from every part of the social strata. Apted and Almond invited the kids to expound extemporaneously upon their feelings, desires, and aspirations. Seven years later, the same 14 people were rounded up for Seven Times Seven, which brought their individual histories up to date. And so it went until 1991, with Apted, now working solo, updating his original 1963 documentary every seven years. In 1984, all existing chapters were bundled together into the British miniseries 28 Up. By far, the best of the updates, as well as the most optimistic, 28 Up was later boiled down to a 113-minute feature film. In both its series and featurized form, 28 Up is a fascinating social document; those who like cushioning themselves against disillusionment, however, are advised to bypass 35 Up (1991), wherein the 14 middle-aged subjects are a lot more fearful about their future than they'd even been before. ~ Hal Erickson, Rovi
Audience Reviews for 28 Up
28 up is the year most of the subjects suddenly have kids.
Angela Alcorn
Super Reviewer
With this installment in the series we lose two of the "kids". They decide not to participate anymore. It's unfortunate but ultimately their choice,
Huge changes come this time around as we see our folks with families and adult lives and thoughts. Gone are a lot of the cockiness of youth. A lot... not all. Some folks seem to know who they are and what they want while others seem lost in life still.
It was nice to see a couple of the "kids" grow up and stop being the brats they were in the last couple installments.
Jason Spencer
Super Reviewer
didn't see 21 up regrettably because my hold didn't come in yet, but these heartbreakingly beautiful stories hit a chord with me. a tad too long and out of the kids some of them have undeniably more interesting stories than others. like who could forget neil? my gosh that man/boy makes me sad just to look at him. or symon, or bruce, or snobby john with a hint of truth behind his pontifications? it's amazing watching these kids growing up, making surprising changes. yet you can still see the initial kid in them, which is something i find both wonderful and eerie.
Jennifer Xu
Super Reviewer
28 Up Quotes
There are no approved quotes yet for this movie.