Byôsoku 5 senchimêtoru (5 Centimeters per Second) (A Chain of Short Stories about Their Distance)
(2007)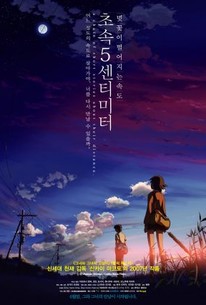 AUDIENCE SCORE
Critic Consensus: No consensus yet.
Byôsoku 5 senchimêtoru (5 Centimeters per Second) (A Chain of Short Stories about Their Distance) Photos
Movie Info
Director Makoto Shinkai's heartfelt animated drama tells the tale of two close friends separated by chance, and reunited by determination. As schoolchildren, Tono Takaki and Shinohara Akari were inseparable. But shortly after graduating elementary school, their families each moved and the distance between them grew. Despite the fact that each worried they would never see the other again, Takaki and Akari never lost touch. Later, Takaki decides to pay a visit to Akari, and sets out on the road that leads to his old friend. This is the story of Takaki and Akari as told in three parts: From the perspective of both friends, as well as the vantage point of those they both meet along the way. ~ Jason Buchanan, Rovi
Critic Reviews for Byôsoku 5 senchimêtoru (5 Centimeters per Second) (A Chain of Short Stories about Their Distance)
All Critics (2) | Top Critics (2) | Fresh (2) | Rotten (0)
As poet of heartbreak, Shinkai could be accused of treacly mush (the voice-overs are a bit florid, and the saccharine piano score doesn't help), but he's got a delicate touch with sentiment that will have receptive viewers reaching for a Kleenex.
Audience Reviews for Byôsoku 5 senchimêtoru (5 Centimeters per Second) (A Chain of Short Stories about Their Distance)
Is it beautifully animated? Yes. Is it one of the greatest anime movies of all time? Absolutely not. The animators do deserve applause for the gorgeous backdrops and attention to detail. The realistic portrayal of modern settings and aesthetics contributes to the down-to-Earth vibe that the film is going for. The animation deserves the praise but the quality of the narrative doesn't justify this films almost 'Citizen Kane'-level of critical praise. The story is split up into three episodes in which it follows two young people named Takaki and Akari as they try to preserve their romantic relationship despite long distances. Despite it's broad themes of separation, time, and moving on with life; the plot is rather cookie-cutter. The story never separates itself from a typical one-note angst teen-romance film. The straightforward plot would not be too much of a problem if it weren't for the one-dimensional characters and the film's pretentiousness. Takaki comes off as a constantly depressed emo, and Akari is never defined outside of being smart. The closest the film gets to a fully developed character is Kanae, and that is only because she loves to surf but even then it's hard to relate to her due to her obsessive behavior towards Takaki. Another looming issue with the film is that it is pretentious. The word "pretentious" tends to be over-used but here it's appropriate. Even down to the title (which is just a random line that was said in the beginning that provides as a superficial metaphor for time) this film seems to think it is being more profound than what it really is. Dialogue is delivered in strange broken fragments and the music is the typical melancholy piano loops that would not feel out of place in an average indie romance flick. From an animation standpoint this film is fantastic but great animation can only take a film so far. The under-whelming romance story hinders this film from greatness. It puzzles me why critics and fans alike love this movie so much. It is not particularly deep nor though provoking, it is just an okay straightforward romantic melodrama.
Christopher Heim
Super Reviewer
while it's a gorgeous looking piece of work, the story was too corny for me. at just over an hour i'd still recommend checking it out if you're an anime fan
Stella Dallas
Super Reviewer
The best animated movie that I have ever seen. Breathtaking scenery over-all makes this film a must-watch. This movie is not only remarkably animated; it's also outstandingly written. It's a poem in motion to be exact, but its harsh reality really hits you in the end, but then again, reality is reality. Its take on love is simple. There are no eyesore plot twist. It's really a simple story with lovable characters and a eye-opener ending. It's only an hour long, but in that short span of time, you'll feel a surge of emotion as it slowly leads you toward the awaited end.
Paulo Gabuat
Super Reviewer
Byôsoku 5 senchimêtoru (5 Centimeters per Second) (A Chain of Short Stories about Their Distance) Quotes
| | |
| --- | --- |
| Voice: | The things I had to tell her... and the things I hoped she would listen to. There were so many of them. |
| | |
| --- | --- |
| Voice: | We humans desperately and recklessly launched something of that mass and size into the air, gazing off into the distance, towards something far beyond our wildest dreams. |
| | |
| --- | --- |
| Voice: | When did I start typing messages that are never sent? |
| | |
| --- | --- |
| Voice: | At what speed must i live, To be able to see you again? |
| Voice: | At what speed must I live, To be able to see you again? |
| Voice: | At what speed must I live, to be able to see you again? |