A Little Trip to Heaven
(2007)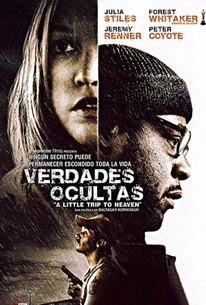 A Little Trip to Heaven Photos
Movie Info
Three stories of human treachery are given an unexpected link in this dry comedy drama from Icelandic filmmaker Baltasar Kormákur. Holt (Forest Whitaker) is an insurance investigator who is sent to Minnesota to look into a bus accident; the bus seems to have had significantly more passengers after it crashed than it had when it left the station, and Holt, posing as a police detective, needs to know who is telling the truth and who is attempting to cash in on the tragedy. Later, Holt is back on the job, when a badly burned body is found in a wrecked car, and the ID on the corpse indicates the victim was a small-time con artist with a police record. The victim's sister, Isold (Julia Stiles), claims that her brother's accident happened after his gas tank was drained and he was struggling to make his way home on a stormy night, but Holt isn't buying it; and Isold's husband, Fred (Jeremy Renner), and son, Thor (Alfred Harmsworth), don't seem especially trustworthy. Finally, a man and a woman struggle to make their way to shore after their car sails off a cliff into a body of water. While they seem grateful to make it back to dry land, it seems the woman has reason to be unhappy with her mate when she viciously attacks him. Who are these people, and what is their story? A Little Trip to Heaven received its North American premier at the 2005 Toronto Film Festival.
News & Interviews for A Little Trip to Heaven
Critic Reviews for A Little Trip to Heaven
Audience Reviews for A Little Trip to Heaven
½
Cast: Maria Fernandez Ache, Karl Anton Leigh, Peter Coyote, Forest Whitaker, Juan Carlos Pardo Pardo, Damon Younger, Jeremy Renner, Joanna Scanlan, Julia Stiles, Alfred Harmsworth, Philip Jackson, Anne Reid, Phyllida Law Director: Baltasar Kormákur Summary: When a claim is sought on the million-dollar life insurance policy of notorious con artist Kelvin Anderson, crack investigator Holt is assigned to uncover the truth in Baltasar Kormakur crime noir. Holt (Forest Whitaker) suspects deceit from the get-go, and he stealthily tries to uncover the truth from Kelvin's sister Isold (Julia Stiles) and her erratic husband, Fred (Jeremy Renner). My Thoughts: "The movie wasn't very good. I mean it was a decent suspense film, just not very interesting. I thought the brother and sister scamming was more interesting then the insurance fraud. The acting by Julia was good, Whitaker's Irish accent through me off. I am not sure if it was good or ridiculous, or why he needed the accent in the first place. I'm leaning more towards ridiculous. I did enjoy the look of the film. The scenery and the depressing gloom of it. Especially that great creepy house. But besides those things, the film was a sleeper for me."
♥˩ƳИИ ƜѲѲƉƧ♥
Super Reviewer
The crash scene at the end of this movie is in itself worth watching, best stunt I have ever seen. The film is about the best suspense film I have seen in some time. Forest Whitaker keeps popping up in these unheard of films. Julia Stiles plays the abused female and does a excellent job of it. Child Actor Alfred Harnsworth reached the top of the peak in this one. It will keep you on the very edge of your seat, you will not get up or walk away from this one. 4 Stars reaching for 5
Bruce Bruce
Super Reviewer
½
Good film, interesting plot. Great performances by Forest Whitaker and Julia Stiles.
Chosen 718
Super Reviewer
A Little Trip to Heaven Quotes
There are no approved quotes yet for this movie.