A Somewhat Gentle Man
(2011)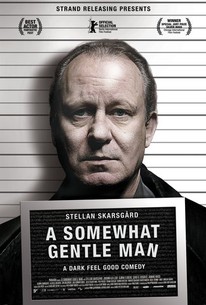 A Somewhat Gentle Man Photos
Movie Info
Ulrik (Stellan Skarsgård) is a somewhat gentle man. He has no special wishes and makes no demands. He does not give too much thought to what he does either. If he's given some food and a place to sleep, he will give people what they want in return. Whether this be a little affection or a killing. Ulrik has killed some people and crippled a few. It's all part of the job when you're a gangster. Just like doing time. Now Ulrik is out again. Reluctantly... And Jensen is waiting on the outside. He's a boss with professional pride, and it is important for Jensen that Ulrik kills the snitch that ratted him out. Official Selection of the Berlin Film Festival. Winner at Chicago Film Festival, Silver Hugo Award. -- (C) Strand
News & Interviews for A Somewhat Gentle Man
Critic Reviews for A Somewhat Gentle Man
Audience Reviews for A Somewhat Gentle Man
A recently released convict adjusts to life outside and the temptations to avenge his imprisonment. Is this a comedy or a drama? The box art has critics' comments that lead me to believe it's a comedy, but the subject matter is remarkably slow and often dark. The comic elements, which allowed me a few minor grins, were quite broad like Ulrik's son's insouciant treatment of the difference between Ulrik and his new family and Ulrik's sexual escapades with his landlord. But the film is inconsistent, often asking us to take seriously Ulrik's moral conundrum, and Stellan Skarsgard's understated performance is more what we're used to seeing in a high-minded drama. Regardless of its inconsistencies, I found A Somewhat Gentle Man entertaining and easy-to-watch. Its pace is slow, but its characters are ultimately interesting. Overall, I liked A Somewhat Gentle Man a little more than somewhat.
Jim Hunter
Super Reviewer
Cast: Stellan Skarsgård, Bjørn Floberg, Gard B. Eidsvold, Jorunn Kjellsby, Bjørn Sundquist, Jon Øigarden, Kjersti Holmen, Jan Gunnar Røise, Julia Bache-Wiig, Aksel Hennie Director: Hans Petter Moland Summary: With revenge on his mind, a gangster (Stellan Skarsgård) who spent 12 years in prison for murder sets out to kill the man (Henrik Mestad) who put him there. But the promise of a normal life -- and news that he's on the brink of becoming a grandfather -- proves a tempting distraction. Suddenly, seeking vengeance doesn't seem nearly as important. My Thoughts: "I saw way more of Stellan Skarsgard then I planned or wanted to. But besides that little fact, no fun intended, I rather enjoyed the film. I enjoyed the story and I liked Stellan's character Ulrik. He is conflicted with having a new life and getting revenge on the person who ratted him out which landed him in prison for 12 yrs. The film has a subtle hilarity about it. Just the awkward hug, wink, or nod had me smiling or laughing. Really silly actually, but it made me laugh. The whole film is full of awkward moments. Skarsgard does fantastic in his role. There's not a lot of commentary but it works for this film. A good watch if you get the chance to see it."
♥˩ƳИИ ƜѲѲƉƧ♥
Super Reviewer
Norwegian black comedy/drama at its best. Real characters. Pathetic at times. Funny at times. Rather slow moving, but done in the right way. This is one of those films that draws you in until the end. Well done...
Cynthia S.
Super Reviewer
A Somewhat Gentle Man Quotes
There are no approved quotes yet for this movie.