A Story of Floating Weeds (Ukikusa monogatari)
(1934)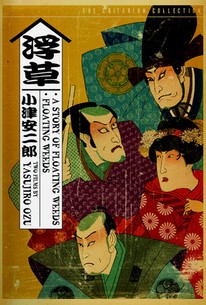 AUDIENCE SCORE
Critic Consensus: No consensus yet.
Movie Info
One of Yasujiro Ozu's early masterworks, it concerns an actor, Kihachi (Takeshi Sakomoto) leading a struggling theater troupe who returns to the provincial town where he fathered a child years before. He seeks out his son, now a young man, and the woman who bore him, spending a great deal of time with them. To avoid angering his mistress Otaka (Rieko Yagumo), and to protect himself, he pretends to the young man that he is his uncle. Nonetheless, Otaka eventually learns the truth and persuades one of the company's ingénues to seduce the boy, hoping to hurt him and his father indirectly. Her plan backfires when the two fall in love, and the troupe, which is already on the brink of failure, is forced to disband. At length, Kihachi realizes he must move on and returns to Otaka. ~ Michael Costello, Rovi
Critic Reviews for A Story of Floating Weeds (Ukikusa monogatari)
All Critics (3) | Fresh (3) | Rotten (0) | DVD (1)
It's basically a soap-opera story that Ozu enriches with great camera work and characterizations, making it more special than it should have been.
A rare remake: One that surpasses the already fine original.
The silent version is a tad more fun than the gorgeous color version.
July 22, 2004 | Rating: B+
Audience Reviews for A Story of Floating Weeds (Ukikusa monogatari)
The above rating is for "A Story of Floating Weeds"(1934), Not for the remake, "Floating Weeds."(1959) [font=Century Gothic][color=darkgreen]"A Story of Floating Weeds" is a silent movie from Japan directed by Yasujiro Ozu. It is a superb film that centers on a traveling theatrical troupe that returns to a small village after an absence of a few years. The lead actor has a secret from his fellow actors - he fathered a son some years before...what follows is a powerful, yet subtly emotional film about the paths we choose in life.[/color][/font]
ive always believed that striking images and effective facial expressions from actors was far more important in silent films than the story, but ozu brings us this silent classic where he uses effective performers, creates some of the most beutiful images ive ever seen in any film silent or not, and tells a near perfect story to bring the best of all worlds together so that we get one of the best silent pictures ever made. nearly as good as ozu's remake 25 years later, this story is authentic but passionate and convicting. easily one of the darkest films of ozu's career, the film is also beautiful to consider despite the folly and depravity of some of its characters. a must see.
A Story of Floating Weeds (Ukikusa monogatari) Quotes
There are no approved quotes yet for this movie.