A Year of the Quiet Sun (Rok Spokojnego Slonca)
(1984)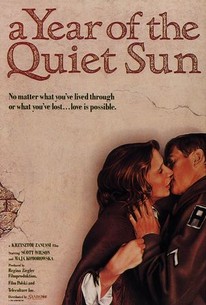 A Year of the Quiet Sun (Rok Spokojnego Slonca) Photos
Movie Info
The Polish Year of the Quiet Sun is set in the years following World War II. In a small Polish town, a United Nations war-crimes investigation is taking place. While the courtroom battle rages on, American soldier Scott Wilson takes advantage of a few precious r-and-r opportunities. He falls in love with Maja Komorowska, a war widow. Despite obvious political and ideological differences, the romance flourishes--at least until it's time for the Americans to pack up and leave. More cerebral than carnal, Year of the Quiet Sun was originally release in Poland as Rok Spokojnego Slonca.
Critic Reviews for A Year of the Quiet Sun (Rok Spokojnego Slonca)
Audience Reviews for A Year of the Quiet Sun (Rok Spokojnego Slonca)
In "A Year of the Quiet Sun," Norman(Scott Wilson, of CSI) is an army driver in post-war Poland for the war crimes commission when he has to relieve himself by an abandoned vehicle, almost not seeing Emilia(Maja Komorowska), who is inside working on a painting, before it is too late. Trying to make up for their awkward meeting, he offers her a ride but she refuses. Regardless, he follows her back to the bombed out apartment where she lives with her mother(Hanna Skarzanka) since their return to their native land, across the way from Stella(Ewa Dalkowska), the local prostitute. Norman returns later with paints and sunglasses for Emilia. At the same time, she is not yet ready to return his affections. And that's when the local thuggery puts in an appearance. "A Year of the Quiet Sun" is an emotionally resonant movie with a stunning final scene. As such, it is set in a time and place where everything has been swept aside, allowing for everybody to mix together out in the open, which should allow for them to begin over. However, reality sets in, as the old order not only takes hold again but predators prey on the weak. And then there are those like Emilia's mother who do not forgive so easily(she thinks Stella should be shaved for her past dealings with the Nazis but otherwise I like her), forgetting for a second who the real criminals were. So, what chance do two damaged people like Emilia and Norman have in such a world?
A Year of the Quiet Sun (Rok Spokojnego Slonca) Quotes
There are no approved quotes yet for this movie.