Aggressives
(2004)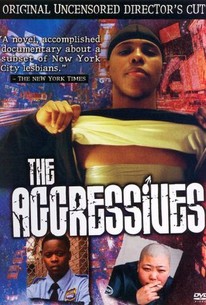 Movie Info
Filmmaker Daniel Peddle offers a look at a little-examined side of lesbian culture in this documentary. "Aggressives" is a name used by some for women who prefer relationships with women, but choose to emphasize the masculine side of their personalities -- often to the extent of living in male drag, and through dress and exercise emphasizing their resemblance to men while toning down their female side. In The Aggressives, Peddle introduces us to six women who feel most comfortable while they embrace their inner male, including Kisha, a messenger whose clients don't all realize she's a woman; Rjai, who is seen getting fitted for a new suit while enjoying a small degree of celebrity after appearing on The Ricki Lake Show; Tiffany, whose persona is that of a gay man and is in a relationship with a man who is undergoing gender reassignment treatments; Octavia, who after being sent to prison on drug charges finds herself forced to take on a new and more violent persona while behind bars; and Marquise, who undergoes a similar crisis when she joins the Army. The Aggressives was Daniel Peddle's first feature film.
Critic Reviews for Aggressives
Audience Reviews for Aggressives
I liked this mainly because it is a subculture that I have not been exposed to. I was totally behind what the participants were striving for. Good on Daniel Peddle for giving us a glimpse over a five year period. Nice commitment pays off.
John Ballantine
Super Reviewer
½
This is a good modern companion piece to the classic Paris is Burning, only this time around the subjects are on the lesbian wavelength. The director did an excellent job at selecting truly compelling people and edits it all (6 years of footage) to make a beautiful and comprehensible timeline of events in these people's lives. This is a "microscope" doc, like Paris is Burning and Gendernauts, and focuses on people within one small community. Still the things they deal with are universal and the issues of gender and sexuality addressed can benefit anyone in terms of broadening your perspective. The director is very minimally invasive, almost invisible, and the subjects are utterly open and comfortable with the camera. Can't recommend it enough.
_kelly .King
Super Reviewer
Aggressives Quotes
There are no approved quotes yet for this movie.