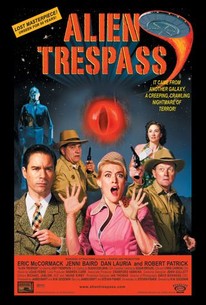 Alien Trespass
2009, Comedy/Sci-fi, 1h 30m
67 Reviews
10,000+ Ratings
What to know
critics consensus
An earnest attempt to parody campy 1950s sci-fi films, Alien Trespass eventually loses its charm among tedious dialogue and cheesy special effects. Read critic reviews
Where to watch
Rent/buy
Rent/buy
Rate And Review
Movie Info
A spaceship crash in 1957 California leads to the escape of the Ghota, a murderous monster bent on destroying all life forms. In order to capture the Ghota, a benevolent alien named Urp takes over the body of an astronomer (Eric McCormack) and enlists the aid of a waitress named Tammy (Jenni Baird). But, unless Urp and Tammy are successful, mankind is doomed.
News & Interviews for Alien Trespass
Audience Reviews for Alien Trespass
To be fair I probably shouldn't even be rating this since I could only stand the beginning 40 mins of this film. What I don't get is the fact that the filmmakers had enough money for good sets and decent enough actors and yet they tried to make a spoof which just wasn't funny. It would have been better for them not trying to make a "spoof" and instead play it straight, an alien film that is just set in the fifties. The film in itself doesn't make sense if it was a film made in the 50's then why was it not shot as a fifties film or had standard dialogue. It wasn't even consistent in it's own setting. If it truly was a film made in the fifties it should have had people in crappy alien monster suits, instead we get a CGI alien which just doesn't make sense. I just didn't get the point.

In "Alien Trespass," nothing much ever happens in the small town of Mojave, California. Everyday, the regulars congregate at the local diner to eat and exchange gossip. The only crime is juvenile delinquency, leading the sheriff(Dan Lauria) to quietly retire in a couple of days. Dr. Ted Lewis(Eric McCormack) is so awed by a meteor shower that he ignores his buxom, scantily clad and in the mood wife Lana(Jody Thompson) in order to fully investigate. The following day, he returns a changed man, warning that if the Ghota split, then everybody is lunch. Presented as a lost film within a film, "Alien Trespass" is a mostly harmless pastiche of 50's science fiction B-movies that references a good deal of them. It is not really a parody nor does it break new ground until the end, leading me to wonder why it was made in the first place.(Where is Guy Maddin when you really need him?) If the biggest joke is the bad special effects, then you are not really trying.(As a longtime Doctor Who fan, I have no problem with alien invasions on a limited budget.) The movie also makes the mistake of taking the smartest character and potential catalyst, who is either the voice of reason or the one who almost gets everybody killed, out of the equation early. Although, to be honest, the movie is a little scary.

Another movie that I found myself pleasantly surprised with. I really enjoyed the fact that this was an homage to the science fiction genre of the 50's as those were movies I enjoyed. It had the same cheesy looking creature, cheesy story and it even had a cheesy message at the end reminiscent of those kinds of movies. But the thing that really surprised me was how funny this film could be. I found myself laughing out loud at some of the lines, especially the line at the end about the pipe.

This movie is the combination of Plan 9 from outer space and the day the earth stood still... It's corny for today's standard. it uses the 1950's sci fi movie style, since I'm a great fan of classic movie I think this movie is pretty nice but the some people might think this movie is a piece of shit, well, it depends on each person's taste.
See Details