All Is Lost
(2013)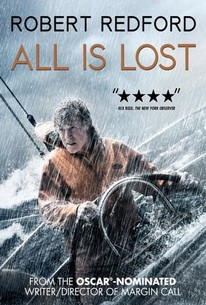 TOMATOMETER
AUDIENCE SCORE
Critic Consensus: Anchored by another tremendous performance in a career full of them, All Is Lost offers a moving, eminently worthwhile testament to Robert Redford's ability to hold the screen.
Movie Info
Academy Award-nominated writer/director J.C. Chandor (Margin Call) takes the helm for this tense adventure drama about a man (Robert Redford) who must fight for survival after being lost at sea. ~ Jason Buchanan, Rovi
News & Interviews for All Is Lost
Critic Reviews for All Is Lost
Audience Reviews for All Is Lost
½
Never felt more appreciative of dry land before in my life.
Jason Robinson
Super Reviewer
Redford is really good in this dialogue-free film, but I gotta say my hat's off to the director. As I was watching, I noticed I was holding my breath at times. Really, an exceptional film.
Christian C
Super Reviewer
½
In dealing with the financial meltdown of an investment bank, J.C. Chandor's directorial debut "Margin Call" in 2011, was an impressively handled, fast paced and very dialogue driven film. It also had a who's who of familiar actors as they wheeled and dealed their way out of their crisis with a spot of verbal jousting. Now, in only his second feature, Chandor has left all that behind and delivers a film that couldn't be further from his debut. There's only one actor and you're lucky if you get a couple of lines of dialogue in the entire film. In the Indian Ocean, a man (Robert Redford) wakes up on his yacht to find that a shipping container, that has been left adrift in the seas, has collided with him. It's ripped a hole in his hull and he's quickly taking in water. He manages to patch it up but a violent storm brings yet more problems and soon, time is running out for him. As the film opens we are told that it is 1700 nautical miles from the Sumatra straits. That's about all we get in determining where our protagonist is. He's never actually named either - referred only as 'Our Man' in the end credits - so we don't know who he is or why he's there, other than some brief voiceover dialogue informing us that he's sorry for something. Again, we don't know what he's done or who he's apologising to - possibly his family. Either way, he's alone on his yacht and we don't know where he's heading to. That's about as much information as we are given and it doesn't get any clearer. It's this very ambiguity that sets the films tone; it doesn't concern itself with details or backstory or even much dialogue for that matter. This is a meditation on human resilience and determination. Anything else other than that leaves us just as alone as our nameless protagonist. Chandor's intention is to obviously keep things at a minimum and force us to look for the film's themes. Finding these themes, though, is just as elusive as our characters chances of survival. Maybe I missed the point, but all I could find here was the was he was going through some form of penance for his past misdeeds or that the story is an allegory for mortality. Other than that, I felt as lost as him and could fully relate to the film's appropriate title. That being said, there's still much to admire here. Chandor's minimalist approach manages to balance the vast open space with a real sense of claustrophobia and Redford's paired down performance is absolutely captivating. He has such a comforting and recognisable presence that it's easy to adapt to his character and his isolation. It takes a great actor to be able to hold your attention when they are practically saying nothing and completely carrying a film on their own. Redford's work here is reminiscent of Tom Hanks' exemplary and Oscar nominated performance in "Cast Away" and it's hard to accept that he missed out on an nomination himself, when many expected him to feature. His performance is a very physical one and all the more impressive considering he's now at the tail-end of his 70's. It's a lonely and gruelling journey and despite the lack of dialogue, Redford's subtlety speaks volumes. It's almost as if we we can hear his internal dialogue and the conversation he's continually having with himself. There is much to recommend this film but if there's only one reason to see it, it would be for Redford. Most of the ingredients are here for a potential modern classic. Chandor's direction is impressive, as is Redford's outstanding central performance. Alex Ebert also conducts a wonderfully ethereal music score that compliments the powerful cinematography. However, as much as I enjoyed "All Is Lost" for these attributes, I struggled with it's relentlessness and couldn't really see the point of it all. Mark Walker
Mark Walker
Super Reviewer
All Is Lost Quotes
There are no approved quotes yet for this movie.
Discussion Forum
Discuss All Is Lost on our Movie forum!